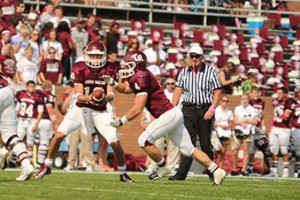 As the season comes to a close, the Katy game and playoffs draw closer, the senior varsity football captains, Cole Thomas, Jamel James, Kevin Colpoys, Taylor Holt, Iain Hunter, and John Liner, reflect on their years with the past teams and their goals for the current one.
With four seasons of high school football almost over, the captains are optimistic about the things they will accomplish with this year's team.
The team will be facing off against nationally ranked Katy High School on Nov. 3. The football captains and coaches alike are confident that the team will be able to rise to the occasion.
"I feel confident because we work hard," Head football coach Don Clayton said. "But on the same token, there are some things that we still need to improve on. We've got to keep getting better."
Despite surge of school spirit and hype over the upcoming Katy game with specially made shirts and pep rallies, the team stays composed.
"We're not going to pay attention to all the hype," James said. "We're just going to go into it as another game on our schedule and just another win that we can get."
Losses to Katy in previous years merely serve as motivation for the rivalry game to come.
"The captains that are captain this year have all been on varsity before and we've lost before and we know how it feels," Holt said. "Also, I believe we're a better team this year, even though the record doesn't show it. We've come together a lot more. I have a sense of confidence with this team and I trust them than I have in the past."
According to the players, the team is closer than past years and lacks the cliques that can be trouble for some teams.
"Our team chemistry is very good," Holt said. "In the past years they've all been playing for themselves, but this year even our best players look towards the team, not towards themselves. Everything you do is for the team and that's what's really different."
The closeness of the team benefits both on and off field team chemistry.
"I think we have a brotherhood," James said. "Whatever we do, we do it all as one and that corresponds with being on the football field cause we can play all as one and not as individuals, [without] a single person sticking out. We play as one, one team on the field."
With only one district loss on their plate so far, the team continues to pursue their goals throughout the regular season.
"I'd say our goals are to continue improving every game, which we've been able to do and we want to win out in district," Thomas said. "We let one slip against Morton but we want to be able to win out. It's going to be a tough task, but I feel like it's doable."
Last year's team made it to the second round of playoffs.
This year, they will finish up the regular season with a game against Strake Jesuit before heading into their first round of playoffs.
"It's all about getting better game by game and then taking that momentum you get from the regular season and using it in playoffs," Colpoys said.
According to Hunter, he sees state as achievable with this year's team.
"I think we can [win state] if we come out every single practice and work as hard as we can any given time [and] play as a team and not as individuals and learn from our mistakes and move on and don't just wait for things to happen," Hunter said.
Though the team has been disappointed in some of their game's outcomes, the captains believe improvement is key.
"Staying in the same position two weeks in a row is just as good as going backwards because other people are getting better," Liner said. "Improving every week is the goal and that should lead to the state championship."