Defense crowns victory in homecoming game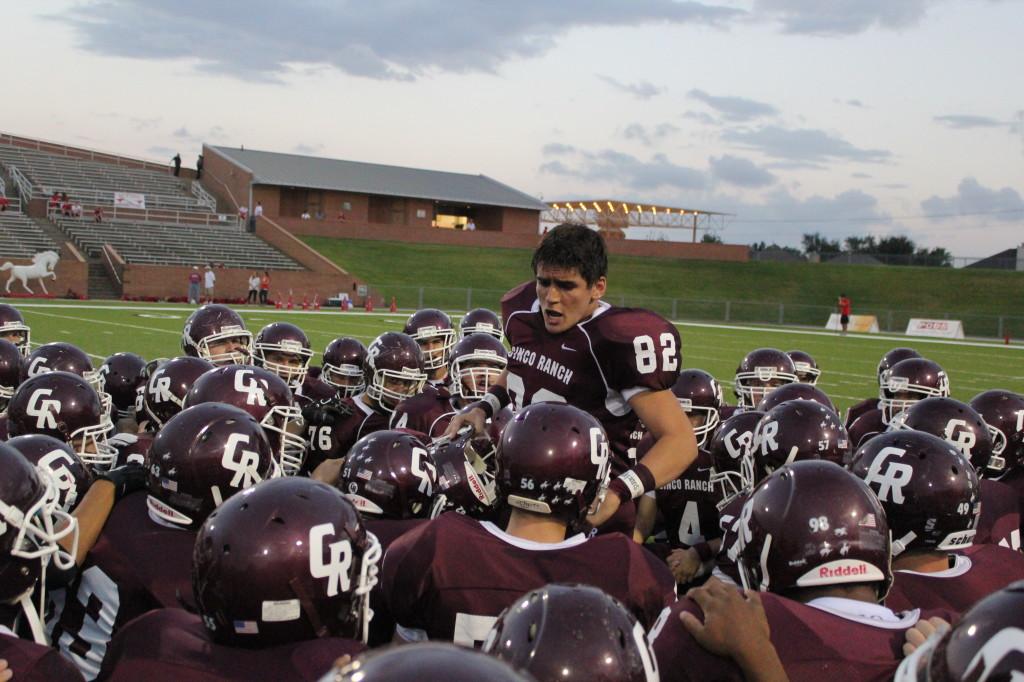 Shaun Lal, Sports Editor
October 10, 2011
As the Cinco Ranch student section sounded the bells on their extravagant mums and garters, the cougar team kept focus on their homecoming game.
Cinco Ranch shut out district foe Memorial 17-0 with a strong defensive stand on Friday, Oct. 7.
Both teams entered the game 2-0 in district, so a victory proved significant towards seeding for playoffs, but Cinco Ranch did not disappoint on their important night.
"Homecoming is a big night when a lot of alumni come back and see what this year's team is all about, so there is an added pressure to go out and perform well," senior captain Anand Chaudhari said. "But, every opponent has to be respected, and we need to prepare for every game like it's the championship game."
The Cougars hit the scoreboard quickly with a 15-yard touchdown catch by junior wide receiver James Rhoden, and a four-yard walk-in touchdown run by junior running back Jamel James.
After halting every Memorial drive, senior kicker Jake Farmen closed the first half with a 33-yard field goal to extend the Cinco lead to 17-0, which never changed during the second half.
The Cougar offense struggled in the first half, but their defense held ground and forced two fumbles and one interception.
"A shutout really puts an exclamation point on the individual effort that led to such a big defensive result," Chaudhari said.
At halftime, Cinco Ranch's homecoming king and queen were announced, and the football team and band captured the crowns, with senior cornerback Al Spikes winning king and senior band drum major Claire Bartlett named as queen.
"I'm proud of [Al]," senior wide receiver Khyrie Neveaux, Spikes' close friend, said. "I knew he would win without any problems, no disrespect to others who were nominated."
Cinco Ranch (3-0) is still tied for first place in District 19-5A with Katy as they prepare for their next game vs. Strake Jesuit (1-2) at Crusader Stadium on Friday, Oct. 14, with kickoff at 7 p.m.