Varsity football improves run game in close win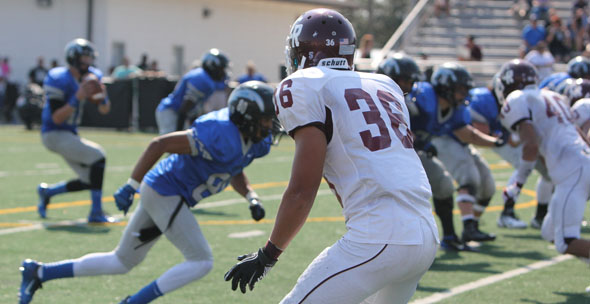 Continuing this season's decisions, Cinco Ranch used all four quarterbacks spanning three different classes—the confusion hit the Clear Springs Chargers hard.
Cinco Ranch defeated Clear Springs 38-33 at Veteran's Memorial Stadium on Saturday, September 10, Clear Springs' homecoming game.
"We were just kind of insulted to be chosen as their homecoming game," senior defensive end Connor Siegmund said. "You normally select your homecoming opponent for an easy win. It definitely motivated us more."
The Cinco Ranch run game was more consistent, as junior running back Jamel James rushed for a total of 187 yards, compared to 107-yard total of the previous two games.
"Jamel James was running hard and the O-Line opened up some holes for him," assistant coach Chris Dudley said. "It is a work in progress and hopefully that is a step in the right direction."
Senior quarterback Jack Steed and wide receiver Alex Ludowig connected on a 69-yard touchdown pass with 9 minutes 27 seconds left in the first quarter to kick off the high scoring game.
"Offense finally got it all together," Ludowig said. "We made huge plays when it counted. The run game and pass game were both finally on point."
With 1 minute 55 seconds left in the first half, James broke two tackles through the line and sprinted straight through the Clear Springs secondary for a 40-yard touchdown, giving Cinco Ranch the 14-point lead.
Clear Springs answered back just 20 seconds later with a 90-yard kickoff return by senior WR Marcus Johnson, who has committed to Texas Tech. However, Ludowig quickly regained the 14-point lead for Cinco Ranch, closing off the first half with an open 35-yard touchdown reception from sophomore QB Luke Klingler, the third of four Cinco Ranch quarterbacks to lead a drive.
The second half was lead primarily by Cinco Ranch junior QB Cole Thomas, who started the game, connecting on 5 of 11 total passes.
After a Cinco Ranch recovered fumble and interception by senior defensive linemen Michael Burris and Bryan Miles, Thomas handed the ball off to James who ran an untouched 62-yard touchdown, bringing the score to 38-21.
Clear Springs made a late fourth quarter comeback with two touchdown receptions, but the 38 points proved unmatchable and Cinco Ranch let the clock run out, securing the 38-33 win.
Cinco Ranch can now rest with a bye-week before beginning their district schedule against Mayde Creek on Thursday, Sep. 22, at Rhodes Stadium.
"We are in a very competitive district," Siegmund said. "But we as a team are very confident. We expect to perform very well throughout the rest of the season."
For more game stats, visit here.