Texas School Closures Extended Until Monday, May 4
Governor Greg Abbott said today in a COVID-19 press briefing that all Texas schools will remain closed until May 4. He also put put forth more calls for social distancing, saying that all Texans are expected to limit their social interactions through April 30. This order allows some exceptions, such as for citizens with jobs deemed essential, such as healthcare workers, first responders, and law enforcement. This extension comes just days after President Donald Trump extended social distancing orders through April 30.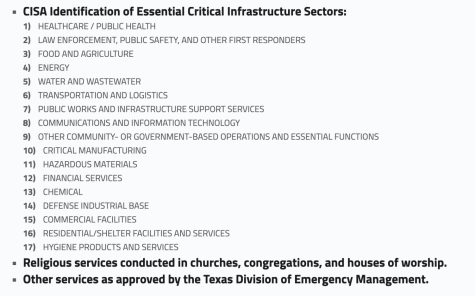 At this point, 31 states have lengthened their original school closure, and 7 states have closed in-person schooling for the rest of the 2019-2020 school year. As of March 31 at 12:45 p.m., there were 3,266 reported COVID-19 cases in Texas, being spread across 122 of Texas' 254 counties. Harris County has 563 reported cases, the most of any county. Fort Bend County has 119 reported cases, the eighth most among Texas counties. Currently, there are 41 reported fatalities in Texas. Dallas county reports 11, the greatest amount of fatalities in one county; Harris County reports four fatalities, the third-highest amount, and Fort Bend County reports one. For more information on COVID-19 cases in Texas, visit the Texas Department of State Health Services' COVID-19 case dashboard, found here.