Guard tosses, spins into winter competition season
The sound of applause begins to fill the dimly lit gymnasium as the music comes to a stop. As The members of the Winter Guard leave the performance floor, however, the excitement in their eyes remain  even after the performance has ended. This is their time. This is their moment.
Winter guard is an indoor competition season that consists of various competitions against other guards. The season starts in the second semester, but the team began practicing in Nov.
"We start performing around January or February and [the season] ends the end of March or beginning of April," senior Abbie Gardner said.
Color guard and winter guard contrast in many ways, including the band's involvement. After football season ends, the band does not perform witht the color guard as thbegins to focus on their competition season.
"[Winter guard] typically has a more theatrical feel than marching band, and show themes come in great variety," sponsor and coach Lisa Hall said.. "I would encourage anyone who enjoys music and dance to check out a show sometime."
The color guard team consists of six underclassmen and six upperclassmen. In previous years the team has had around 32 people.
"We do not currently have enough members to sustain both a JV and Varsity guard, so we have to work to find unity despite the wide variety in experience and training between members," Hall said. "The upside to having just one guard is that all the members get to work together and learn from one another."
Winter guard has various positions, such as weapons and flags. Upperclassmen usually spin rifles and freshmen tend to work with flags. The two have to work together in perfect synchronization to make a performance the best it can be.
"Usually, you begin a show with dancers, then you bring in a weapon line, rifle or saber," senior Molly Jobko said. "And then you bring in a flag line and sometimes dancers are still off to the side, but at the very end we're all in unison as flags.
Although Jobko has been in color guard since her freshman year, she admits that she still gets nervous before a performance.
"Usually, especially if I have a solo, [I'm thinking] 'I hope I don't screw up!' but I try to put that energy into the performance and not let it affect me," Jobko said. "It helps knowing I have friends and family in the audience and on the floor that have my back."
Winter guard performs to one song during competitions, which tends to be a contemporary or mash-up song, but this year the guard plans on doing an instrumental.
"Last year we did an Adele song; there's been Chris Mann and a whole bunch of different stuff," Gardner said. "We kind of go with the song, and that's what the show will be about. The instrumental song we have this year, our director explained it as kind of a longing and it's a journey. So, that's how we will put our emotions into that."
The girls hope to do their best this season and push themselves past their limits. In order to do so, the guard will have practices for up to eleven hours at a time, in which they work on staging and choreography.
"One big goal of the 2013 winter guard season is to present an interesting, precise show to a variety of audiences," Hall said. "In addition to our usual Texas Color Guard Circuit competitions, we are seeking additional performance opportunities on and off campus. Color Guard does not typically get as much exposure as some other activities, and we want to change that. Because nearly half of the guard will be graduating this year, it is of utmost importance to be seen and spark interest in potential future members."

Hang on for a minute...we're trying to find some more stories you might like.
About the Writer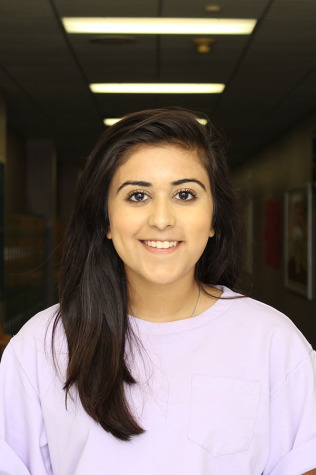 Snovia Moiz, Co-Editor-in-Chief
The year is 1997.
Beyonce is known as Beyonce Knowles, member of Destiny's Child. The day is March 15, Williams James Adams, soon to be known as Will...