From the Cougar Den to the Express Cart: Cougar Den's Change to a Kiosk
NOTE: An earlier version of this article stated the image of the Cougar Den Express was taken by Gurpreet Singh. It has since been corrected to Victoria Do and has been changed to reflect that.
Before this year, Future Business Leaders of America's Cougar Den operated in Mrs. Dibacco's room. Students could purchase food, drinks, Cinco Ranch merchandise, and other items during lunch or after school. However, starting this year the room was changed to a physics classroom. This forced the Cougar Den to convert their shop to a kiosk that sells food and drinks in the rotunda. 
The switch in locations caused FBLA to change the foundation of the Cougar Den. Because all merchandise is in a cart, it's easier to bring said merchandise from the library to the kiosk. Besides the smaller space, there are other, less obvious disadvantages to the kiosk.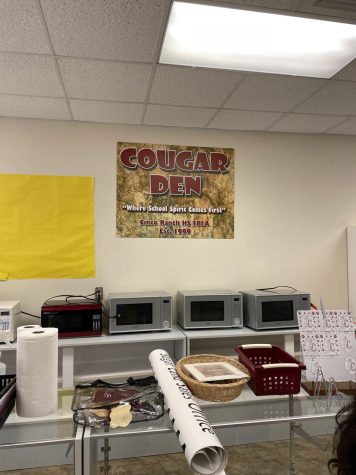 "We had to make changes with how we store things," Cougar Den Express manager Virginia Souder said. "It is more work to have to fill up the drink containers with ice every day but we make it work. Our shopping trips are now more frequent than they were before. We have less storage and can't buy as much as we used to. We also lost our fridge and room for more volunteers."
When they occupied the room, FBLA often had five to six volunteers working at once. With the kiosk, that number went down to three.
"We have lots of members who want to come to help out, but since it's such a small space, we can only have three members," FBLA vice president Gurpreet Singh said. "So [the] community aspect of it isn't as big as it used to be."
Cougar Den can't sell various items, such as frozen lunches, ice cream, and school supplies, due to their loss of a fridge and lack of space. Nevertheless, FBLA is still thankful they could continue to run the Cougar Den. 
"The administration has been great with helping and allowing us to set up in the rotunda," Singh said. "We still have a decent amount of customers, so we are grateful for the opportunity to continue the Cougar Den."
While this change brings new challenges to the operation of the Cougar Den, these challenges could be the push you need to succeed.
"I was happy and excited to make things work," Souder said when asked how she reacted to the change.