Shooting with the stars: Varsity girls' basketball team seeks victories to surpass previous successes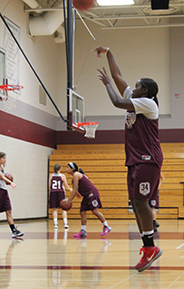 In 2009, the freshman "A" girls' basketball team won the district title with only five players on the court and one relief player on the bench in case of injuries. Seniors Jaylon McClure, Angie Moore, Emily Richard, Cayla Vanderweide, and Taylor Williams relied heavily on each other's skill sets to win games against teams twice their size.
This November, the five returning varsity players hope to finish their last high school season as first in the district the same way they did three years ago.
"This senior class is very special to our program. They are very talented, as well as cohesive," Coach Michelle Morris said. "The chemistry becomes stronger and stronger every time they play with one another, [which] will help with our team this year."
In the last two years, the players have been dispersed between sub-varsity and varsity levels or have had to share positions with previous seniors, but this year, they will have the chance to take the court together again.
"We have gone through a lot of stuff over the past four years," McClure said. "For all of us to now be on the same team again, I think we will be really good this year and hopefully win the district championship."
Junior Sydney Thomas, the only other returning varsity player, and senior Charissa Enget will occupy the remaining positions. After months of practicing together in the basketball period, Morris sees great potential in the program's growing talent.
"The depth on the bench will be very young, but with the strong leaders we have leading us, this will help for the future," Morris said.
In order to reach state finals, the team will first have to qualify for playoffs by defeating many of its big rivals in the Katy area. They see these games as stepping stones to a successful season.
"The only opponent we focus on is ourselves," Morris said. "The district is very tough, and we take one game at a time."
Players that are new to the varsity squad, such as Charissa Enget, are also preparing for a competitive season this year.
"I played with some of [the other players] over the summer and they were really nice," Enget said. "We did really well, so I think it will be a good season."
In addition to new players joining the team, coach Patrick Oliver joined the coaching staff this year when Coach Mathis, the previous assistant coach of many years, switched to coach track and field.
"Coach Oliver has come in and it has been a smooth transition for the staff and the program," Morris said. "[His] philosophy is the same as the staff, so it feels like he has been on staff forever. He brings experience and knowledge and we are happy to have him in our family."
Last year, the varsity team finished with a 26-9 record, the most wins by a Cinco team since the '07-'08 season. Still, many players feel that they could do better and advance further in playoffs.
"Our chemistry has been developed further since freshman year because we've been playing with each other for an additional three years," Richard said. "Last year we had a really great varsity team with great team spirit, but this year I think it will be at that level or even more."

Hang on for a minute...we're trying to find some more stories you might like.
About the Writer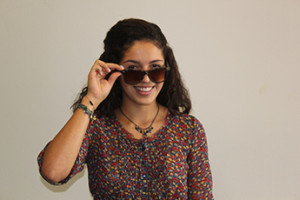 Ana Gutierrez, Entertainment Editor
Once upon a time, in a faraway land, a girl named Ana was born. As the years passed, life did not measure up to the fairy tale story, so she began to live...