Girls' basketball advances to second round of playoffs
Girls' varsity basketball began their playoff run on Monday, Feb. 13, defeating Lamar 52-30 in their bi-district playoff game at Stratford.
The team, fighting to be state champions, is confident, yet cautious of the road ahead.
"The thing we need to work on the most right now is improving our transition defense," senior post Megan Palmer said, "our coaches have really been getting on us about that."
The girls finished the regular season with a record of 25-9, but failed to defeat longtime rival and district champion Seven Lakes.
 Their 5A area playoff match is against Elsik on Thursday, Feb. 16 at Morton Ranch, tipoff at 6:00 p.m.

Hang on for a minute...we're trying to find some more stories you might like.
About the Writer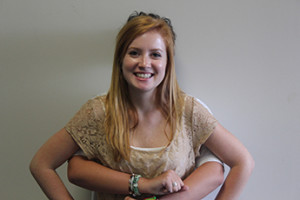 Elizabeth Hale, Co-Web Editor
Elizabeth Hale aka Betsy aka Liz aka Ginger is a senior at the wonderful Cinco Ranch. She's one of the co-web editors of the County Line website, and is excited to be taking on the challenge of making it spectacular. She loves working out, eating, and taking bad pictures of people and putting them on the internet. She's a big fan of the Lady Cougar basketball team, West Virginia University (Big 12 baby!), internet memes, and Youtube videos. And Ed Sheeran.  Gotta love Ed Sheeran.