Ahriel Tyson
Cinco Ranch Senior Begins A Journey To Infinity and Beyond
While many students express they are "reaching for the stars," Senior Ahriel Tyson wants to reach for the stars literally as she embarks from Cinco Ranch to pursue a major in Aerospace Science. Since eighth grade, Tyson has been enthralled by the final frontier, hoping to one day work with NASA and potentially become an astronaut.
"My eighth grade science teacher and the guidance counselor at my middle school got in touch with the University of Illinois Extension program," Tyson said. "They started this scholarship to send kids to Space Camp."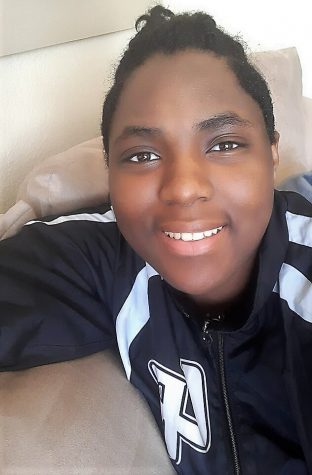 Space Camp, located in Huntsville, Alabama, has been marked as the start of many astronauts' careers as many camp alumni go on to work with NASA. After having written a scholarship essay, Tyson, one of sixteen kids from the surrounding counties where she lived, attended the camp.
"We had a bunch of assessments and team building sessions. Then we went to Space Camp that July," Tyson said. "At Space Camp I got introduced to Aerospace engineering, and that's when I was like 'You know what? I want to be an astronaut.'"
Tyson has committed to go to school at Embry Riddle Aeronautical University which, similar to Space Camp, boasts many astronaut and NASA engineer alumni.
"The thought of designing a rocket, essentially a giant missile if you will, that you're strapping six people into, that's hundreds of feet in the air, and then shooting them off into the vacuum of space… [and] all it takes is one small thing to go wrong, that's what makes it so intriguing to me," Tyson said. "The risk behind it, but also the reward that comes out of making that discovery or going to that place that no human has ever been…Exploring the cosmos, it's boundless, just the sheer amount of stuff that we don't know about out there is terrifying. At the same time it could be nothing. We could be the only form of 'higher intelligence' in the entire universe. I like the uncertainty as well."
Despite the conception that dreaming of being an astronaut is a childish aspiration, Tyson seems to defy those thoughts when describing her love for space. Tyson also has looked to many figures of the Aerospace world as a source of inspiration.
"Mae Jemison, she was the first female African American U.S. astronaut," Tyson said. "She flew in the late 80's, so she was a big influence. She still is. Then Neil DeGrasse Tyson of course. He opened my mind to everything about space really."
As she departs onto a journey into the unknown territory of college and later the unknown of space, Tyson wants to share some words of encouragement to not only the kids who want to pursue their dreams of being an astronaut, but to anyone who has a dream.
"If they have a dream, believe in it, but especially believe in themselves," Tyson said. "…It's about persistence. I think that's what the message really is, and this applies to everyone really. If you have something you love doing or that you're passionate about, persist. Keep doing it as much as you can and keep refining your art because you never know when your chance might come up, but you have to be ready to take it, you know what I mean?"