How to Stick to Your New Year's Resolution (And Hop Back on it if You Gave Up)
With Februrary rolling around, a number of people are starting to abandon their goals they made a month ago. Here is how you could keep working on them.
We've all heard it before. The second the ball drops in New York, millions commit to their new year's resolutions, determined to make this year different from all the ones before. 
"I'm gonna lose weight this year!"
"I'll go on a diet!"
"I'll save more money!"
The same thing happens right here near Cinco Ranch High School. When 2024 rolls around, drive to Willow Fork Park and gasp at the number of cars parked in the small lot. Men and women, outfitted with Nike Dri-fits, Adidas running shoes, and headbands walk around the park, telling themselves that this is the year.
And of course, by the time February comes around, most people have fallen off their initial goal. Whether it's a lack of time or motivation, almost 20% of new year's resolutions are already broken. By the end of the year, over half of the goals are broken. 
Goals in general are especially important to students, who have many things they could improve on. Goals pertaining to grades, extracurriculars, and social life can help a student elevate their performance in many areas. However, many people don't know how to make a goal correctly. 
"You have to think of a goal as a road map to get you from point A to point B and that there are going to be obstacles along the way," Psychology and AP Seminar teacher Amy McConnell said. "So you have to be prepared to adjust [the goal] as needed."
McConnell wrote her college master's thesis paper on how student goals could improve self-efficacy, or your belief in your ability to do something. In it, she split 10th and 11th graders into two groups. In the experimental group, students made grade goals for the semester. They checked their progress every six weeks and received feedback depending on whether they achieved their goal or not. The control group didn't receive any instruction and carried out their school year normally.
"I was teaching science at the time," McConnell said, "and I worked predominantly with at-risk students who were struggling in school in general.  I was trying to think of one thing that could empower them to be more successful…I thought if I taught them how to set goals then and had them set goals, then maybe that could change their perception of their capabilities and ability to be successful in school."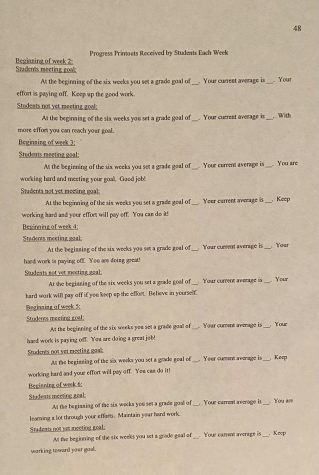 Findings from her study indicated that goal setting improved self-efficacy and mastery goal orientation of students. This added belief that you can do what you want if you set your mind to it can help you find the motivation to keep working at your New Year's Resolution. 
"A lot of times students get feedback that they're not good at school," McConnell said. "If you could change that belief, then you can possibly put them on track to work harder and ultimately be more successful."
However, a weak goal won't help you achieve anything. McConnell encourages students to use SMART (Specific, Measurable, Accurate, Realistic, Time) goals to achieve their aspirations. Your goal should have a specific endpoint, be measurable (instead of "I want to lose weight" say "I want to lose 10 pounds"), be accurate to what you want to accomplish, be realistic, and have a time frame, she said.
On the other hand, becoming discouraged is one of the worst things you can do, McConnell said.
"It's okay for goals to change," she said. "That happens in life. But to just give up on goal setting altogether because 'I've missed it again or I missed the mark'…I think giving up is probably one of the worst things someone can do."
To avoid this, McConnell encourages students to reward themselves throughout their journey. Even if it's a small progression, a reward can keep you on track, she said.
"If you think 'I want to lose ten pounds by spring break', okay," McConnell said. "But [the goal] can still be hard, and so maybe every two weeks you're looking for 'did I lose a pound, and if so, how can I praise myself or reward myself?"
Working with other people toward a common goal also reduces your chances of giving up. Friends, Facebook groups, and other meetup websites can help you find people who share the same goal as you. 
However, there might be times when giving up on a goal is the right decision. If the goal isn't as important to you as it was before, letting go allows you to focus on other goals that are more important to you.
"Sometimes people will give up goals, and it's perfectly appropriate," McConnell said.