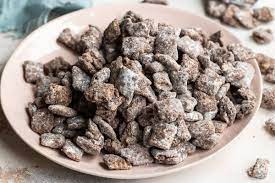 Do you want something sweet, and Halloween themed to make at home? Puppy chow is one of the easiest and most delicious snacks EVER! It's super kid friendly to prepare.
Ingredients:
1 cup. Semi sweet chocolate chip
⅔ cup. Peanut butter
4 tbsp. Unsalted butter
1 tbsp. Pure vanilla extract
½ tsp. Kosher salt
10 cups. Rice Chex cereal
2 cups. Confectioners sugar
How to make:
Step 1:
In a medium heatproof bowl, microwave 1 cup of chocolate chips, ⅔ cups of peanut butter, and 4 tbsp of unsalted butter on high heat for 1 minute. Stir with a wooden spoon to combine them together, continue to microwave for 20 seconds, stirring in between each 5 seconds so it melts and gives you a smooth texture. Add the 1 tbsp of pure vanilla extract and ½ tbsp of Kosher salt and stir until you get a smooth texture.
Step 2:
Pour the 10 cups of Rice Chex cereal into a large bowl, then pour the chocolate mixture that you melted in the microwave over cereal. Gently toss with a wooden spoon until the cereal in the bowl is evenly coated.
Step 3:
Transfer the chocolate-coated cereal to a large resealable plastic bag, then add the 2 cups of Confectioners sugar and shake to coat. Pour puppy chow onto a large baking sheet, and let it chill for 10 minutes. Enjoy that delicious snack!