Frisbee ultimatum
It is Friday, and the hallways have already transformed into a sea of maroon. One shirt says basketball, another says swimming, and off to the far right, hidden beneath the hype of the more conventional crowd, there is a shirt with the words ultimate frisbee printed across it. Despite its obscurity, the name has managed to catch the attention of a student walking by. Though the sport is only noticed by a few, it will soon begin to be recognized by many.
Ultimate frisbee was introduced to Cinco Ranch in 2006, but it is just now that ultimate frisbee or simply "ultimate", is starting to make a name for itself and officially getting to play other high school teams.
Once the class of 2010 graduated, the team was set into the hands of the remaining members with hopes that the newly begun legacy would continue.
"It wasn't really that difficult to start a new team," senior Jake Glass said. "We've got a really tight group of friends in the 2012 and 2013 classes, and we just kind of started setting up games for ourselves. Those guys made us into really good players. Hopefully we can leave that same kind of legacy for the current underclassmen."
Though the ultimate frisbee team participated in tournaments last year, which consisted of playing other high school and alumni teams in the Houston area, this is the first year they have been able to officially play. After getting the agreement from their sponsor, Aaron Hoefer, the team was ready to begin.
"[Being official] is a big step for the sport. [We] now have a sponsor so we are awarded amenities, such as lighted fields for games," senior Blake McKenna said. "Hopefully the sport will eventually progress to be a sport played in schools, but for now, we're headed in the right direction."
As for game play, nothing has entirely changed, though more practices are being held and the level of commitment has increased.
"Last year I never really thought about it not being an official team," Glass said. "I just played for fun with the hope that one day I could play in college where it would be official."
Now that the players have come together as a team, they must rely on trust from their teammates and self-determination, since they have no official coach or referees.
"When it comes to referees, the teams are their own referees," Senior Cameron Marti said. "We use the trust system so players call their own fouls and say if they are inbounds or not."
Although ultimate frisbee may seem like any other game of frisbee, it requires the technique to properly catch and throw the disk. Ultimate frisbee can best be described as a faster paced game of football, only using a disc that you are unable to run with.
"Cardio is a big part of ultimate, so running is always a good idea when it comes to training," McKenna said.
Ultimate frisbee is one of the fastest growing sports in the nation right now and its Cinco Ranch members have high hopes of what it will grow to become.
"I really like the potential growth for ultimate frisbee. " Marti said. " I feel that it could be a very large sport in the future."
About the Writer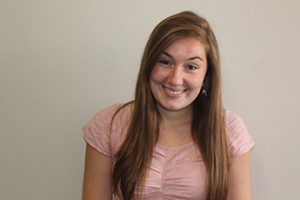 Gabrielle Deckelman, Features Editor
Senior Gabrielle Deckelman, is also known as the future Editor of Vogue. When she's not jetting off to Paris to attend an upcoming fashion show or writing...