Band selects 2018-19 drum majors
Every year, the Cinco Ranch marching band goes through a rigorous selection process to select who will lead the band to success. The selected candidates must showcase all of the qualities of a leader to the highest degree.
These people are the drum majors.
Head drum major and senior Justin Zhang and the three assistant drum majors, junior Lydia Falcon, and sophomores Kelly Haas and Ivanna Heigl-Maza, have been chosen to lead the band for the 2018-2019 marching season.
"For me right now, it hasn't really sunk in yet," Zhang said. "It's kind of like 'woah, what, me as head drum major?' I'm just really excited for what's going to happen next year."
The head drum major is positioned front and center when conducting the band at contests, games and other events.
"We're basically an extension of the directors," Zhang said. "In a sense, we are like assistant directors. We help organize everything in the band, and of course we get to conduct as well. I'm really excited, because this has been a goal of mine since the very beginning. I just can't wait."
The Band has four drum majors chosen each year. The head drum major and the three assistants act as a team to lead and drive the band to success.
"I think we're going to be able to work together really well," Falcon said. "I think that's going to promote harmony in the band. We're all really hard workers, so hopefully that will rub off on the people that we're leading."
The drum majors must be committed to band, just like the band members.
"Drum majors put a lot of time into making the band better," Haas said. "They just pour their heart into the band program. They set examples by the way they act in class, the grades that they get, and their leadership skills. My goal for this year is to make the year enjoyable and fun, and keep it productive and accomplish things."
About the Writer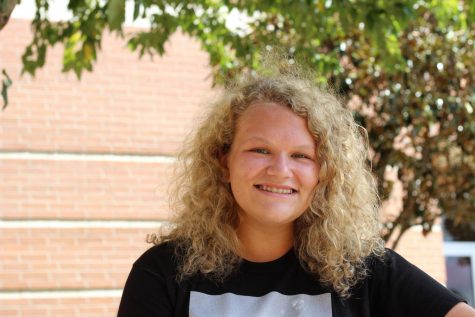 Jordyn Guzman, Co-Editor
Jordyn Guzman, (AKA Gordyn Juiceman, AKA Captain Citrus etc...) is finally a senior! And guess what? In her third year of being as a County Line staff...