Black Panther: an action-packed punch of cultural diversity and representation
Marvel Studios has yet again released a box-office hit with the premiere of Black Panther to theaters on February 16th, making it the 18th blockbuster under Marvel's belt. The film follows the epic story T'Challa (Chadwick Boseman), a superhero who takes the reins as ruler of Wakanda after the unexpected death of his father, T'Chaka (John Kani).
T'Challa must carry the overwhelming responsibility left by his father guiding and protecting the citizens of Wakanda, all while battling Killmonger (Michael B. Jordan) and M'Baku (Winston Duke), envious and bitter antagonists who threaten T'Challa's rule.
In addition to the captivating and action-filled plot line, the aesthetically pleasing visuals and culturally accurate influences set this film apart from any other Marvel project. With vibrant, lively people and beautiful, lush landscapes full of abundant vibranium resources, Wakanda completely destroys the tired perception of a dilapidated Africa. The country also gives a curious perspective on what an African country would most likely look like if it was never colonized.
The film also casts an intriguing light on the power dynamics in race issues, humorously portraying the "white savior complex" through Everett K. Ross (Martin Freeman) as well as the conflict between Native Wakandans and African-Americans through Killmonger, who is scorned by Wakanda's apparent unwillingness to help African-Americans in times of hardship and discrimination.  As a Nigerian-American girl, this film was incredibly empowering experience, as it displayed the flourishing strength of African culture on the big screen- something that doesn't seem to happen often. Additionally, seeing race issues being addressed with more depth and perspective was a breath of fresh air to the often one-dimensional and surface-level portrayal of racism in other films.
The soundtrack for the film was also among my favorite things about the film. Produced by 11-time grammy-winning rapper Kendrick Lamar, the album's thoughtful blend of West coast hip hop, rock and African sound gave an more epic vibe to the film, with SZA and Kendrick Lamar's atmospheric number "All The Stars" and The Weeknd's talking drum-backed track "Pray For Me" giving a magnificent presence to action scenes.
A true emblem of black imagination, creation and empowerment, Black Panther proves to be a watershed in the increasing importance of representation and cultural diversity in Hollywood. Though this film is a tremendous leap towards adding more representation in Hollywood, there is still a long way to go in the celebration of diversity. I hope directors and production companies (I'm eyeing you, Academy) take notes and follow suit in creating films that more of their ethnically diverse fans can be inspired from.
Regardless of how cool a movie looks and how much revenue it generates–representation matters.
Verdict: 10/10

Hang on for a minute...we're trying to find some more stories you might like.
About the Writer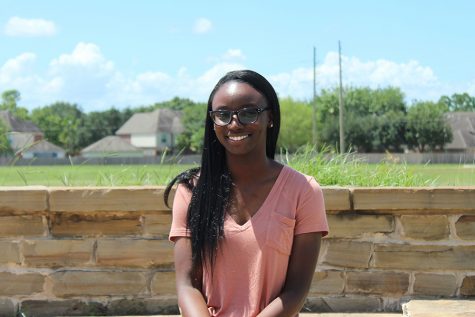 Angelica Arinze, Features Editor
Angelica Arinze is a senior and Features Editor this year for the County Line. Between indulging in seemingly endless cups of frozen yogurt or complaining about her unfortunately-required science and math classes, she loves to express herself by reading amazing books and writing stuff she cares deeply about. She was born and raised in Reno, Nevada, and moved to Texas her freshman year in 2014. Though it may seem like she doesn't have much to say or talk about, this doesn't mean that she won't make her opinions known. She also likes to learn more about the world everyday, research interesting facts, and take the occasional Buzzfeed quiz (although it's more like 20 quizzes in a span of 5 minutes). Having switched from the Yearbook to the Newspaper, she is excited to learn new ways to spread school news and connect with the humans of Cinco Ranch.