New coach baseball takes over, Plattsmier hopes to lead team to victories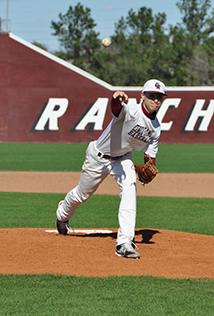 The varsity baseball team is swinging into action this year as not only a team with new expectations and goals, but also with two new coaches who are ready to guide them.
After coaching in Spring Branch and Cy-Fair school districts, Baseball coach and Pre-AP World History teacher Paul Plattsmier hopes to take the team in a new direction.
"I think Coach Plattsmier's new direction will revamp the player's attitudes towards the season," senior pitcher Dylan McGee said. "I think the players are excited to see what he can bring to CR baseball and to see his enthusiasm for being the new head coach. I believe I can speak on behalf of all the players when I say that he is a great coach, as well as a great man."
After finishing last year with a district record of 4-7 and overall record of 13-10, the team looks to improve this year and prove to their district they are tough competitors.
"The biggest difference with this year's team and last year's team would probably be a higher commitment and focus towards getting to playoffs," senior pitcher Sam Ashey said. "Past year's teams have obviously had desire to play and strive for excellence, but this year we have refocused on the discipline and desire it takes to excel in one of the most competitive districts in the Houston area."
According to junior outfielder Caleb Maddox, the success of the team relies on how tight knit the players are and will become.
"Talent has always been there and I think the strength this year is the chemistry.," Maddox said. "We all know each other really well and we're good friends and I think we all can get along pretty well."
The team is made up of seniors and juniors with the exception of sophomore infielder Taylor Jiral, but McGee sees potential in the young talent and first time varsity players that made the team this year.
"I see a lot of good things coming from some of the new-varsity players and their enthusiasm to win and their work ethic to make it happen," McGee said. "We have had some separation in the past among cliques in the team, and I think that will change this year.  The team really has trust in everyone's ability and we know that if we work together well, we should have a great year."
According to Plattsmier, the team's strong pitching staff and defense will only help give them a good shot at competing in the district.
"I feel like there are good players that give us a chance to compete year in and year out," Plattsmier said. "Our district is very competitive. I believe we'll compete as long as we keep working and improving."
With 10 seniors on the team this year, its important to them to go out with a bang in their final year of Cinco baseball.
"This season I am just excited to be leading my team along with all my fellow senior teammates who have been working so hard the last three years to get to this spot," Ashey said. "I am looking forward to bringing up the younger players and showing them how to be competitive ball players all while enjoying my last season of high school baseball with all these awesome people who make our team so much fun to be around."