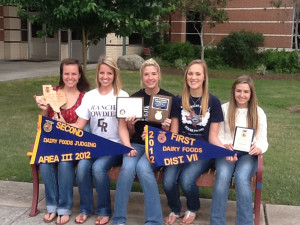 The Cougar Future Farmers of America Milk Quality team competed in the State FFA Career Development Event at Tarleton State University on April 19. The team placed seventh out of the 50 teams that competed.
"Our team worked so hard this year," senior Taylor Benyak said. "It was a truly rewarding experience, especially since there was a lot of tough competition."
Benyak, senior Savannah Tarpey, sophomore Bronwyn Sinquefield, sophomore Allison Steed, and sophomore Megan McRory competed together on the Cougar FFA Milk Quality team. Their seventh place ranking was the first time that a Milk Quality team from Cinco Ranch placed within the top ten at a state competition.
"In competition, we taste different types of cheeses to determine what type of cheese it is, and taste different milk flavors to also determine its flavor from rancid, to malty or salty," Benyak said. "We also have to taste other dairy products to tell whether or not they are artificial or imitation."
The final section of competition is a more formal test, specifically designed to test knowledge over milk quality production.
"They gave us a 300 question study guide with possible questions," Steed said. "When they make the tests they pull out 25 random questions out of the 300 question packet. It's a lot of work but also lots of fun."
The Milk Quality team has also had success throughout the spring season. In order to compete at state competition, the team placed first in the District VII FFA competition, and placed second in the Area III FFA competition.
"Tarleton State University was an amazing host," Sinquefield said. "Through many hours of hard work and countless practices our team was able to accomplish an amazing season."
The Milk Quality team has since finished competition for the year, and is preparing for the next year of competition.
 "I've been on the team for four years," Tarpey said. "Each year we progressed to the state level, but our ultimate goal was to place top 10 in the state and earn a plaque. When they announced our team name this year, I was absolutely thrilled with the results, because it's something I've been working to achieve throughout high school. It was a perfect way to end my FFA involvement."