Academic Decathlon team goes to state competition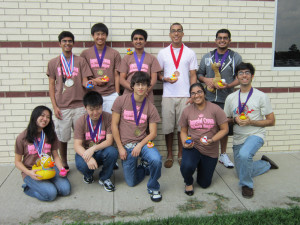 The Cougar Academic Decathlon team competed in the Texas State Decathlon meet on Feb. 25. The Decathlon team ended in fifth place out of the 41 teams that competed, the highest placing of an Academic Decathlon team since Cinco Ranch was founded. Senior Nicole Chu, senior Varun Bora, senior Neel Bhan, senior Saif Ali, senior Anderson Frailey, senior Sathvik Aithala, senior Diego Lagos, senior Roy Su, and junior Cody Nguyen competed.
"It was great to get so far in the competition," senior Anderson Frailey said. "It was just disappointing that the competition was so poorly run. It was not organized or judged well."
During the state competition, senior Saif Ali placed first in the Scholastic Super Quiz and interview subjects, with a perfect score. Senior Varun Bora placed first in Honors Math, and second in Honors math, science, and super quiz. Senior Nicole Chu placed first in Honors science and language and literature, and second in honors economics and music. Senior Roy Su placed second in Varsity science and math, and senior Neel Bhan placed second in Honors interview.
"I felt that the judges were biased for the subjective areas of the competition," AP English literature teacher and decathlon co-coach Susan Shank said. "When they judged us and people from a different area to see who would get to nationals, the people from another region always came out about a thousand points ahead. They seemed to favor them to come out ahead and go to nationals."
Senior Nicole Chu placed second overall in the Honors division, and senior Saif Ali placed fifth overall in the Scholastic Division.
"We didn't quite get what we wanted, but it's still the farthest that an Acadec team from Cinco has ever gotten," senior Neel Bhan said. "We studied hard, and it paid off in the end. And we had a lot of fun, too."