COVID Concert Cancellations
COVID- 19 Takes Toll on Music Industry
Due to COVID-19, time was put at a stand-still. Almost every industry, except for the essentials, is in a stagnant hold as the number of confirmed cases continues to rise and as social distancing converts to the new normal. However, the music industry remains in production to act as a universal connector and a common ground between everyone in this time of isolation.
Artists have been adapting to this situation as best as they can. Numerous tours, shows, and releases have been pushed back or canceled in order to adapt to the changes. Many ticket companies and venues have been issuing refunds or site-credit in order to compensate for shows that have been called off. However, it is not all negative.
In an attempt to bring communities and fanbases together, artists have been holding stay-at-home sets and shows for fans to interact. One of the first artists that pioneered this idea was the British punk-rock star, Yungblud. He was quick to jump to action, scheduling a youtube live show for fans to stream. "The Yungblud Show" included performances from him and features with other artists. Including a cooking segment with Oliver Tree and playing a game with Machine Gun Kelly and Bella Thorne, the stream was an hour long block of positivity. Other artists were quick to jump on the bandwagon. iHeartRadio hosted their Living Room Concert For America presented by FOX. Hosted by Elton John, the concert featured artists such as Green Day, Billie Eilish, Backstreet Boys and many more. It featured appearances from celebrities like Demi Lovato and Lizzo as well.
Social media outlets were quick to assist with this as well. With Instagram's live feature, many bands and artists have been live-streaming sets on the app. The app Tik Tok has also featured people by providing scheduled live times for bands to play acoustic sets.
With all of the awareness and donations coming out of the music industry, music is continuing to stand tall over the chaos by bringing people together in isolation. It is our job as fans and music lovers to be patient with artists and to show empathy and understanding, even if a long awaited tour or album is delayed or scrapped entirely. The virtue of patience, following self-isolation procedures, and continuing to support your favorite artists are all key to making the most of the situation.
About the Writer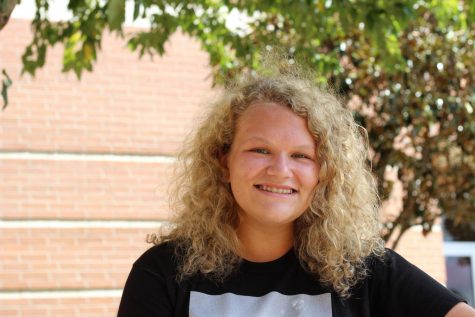 Jordyn Guzman, Co-Editor
Jordyn Guzman, (AKA Gordyn Juiceman, AKA Captain Citrus etc...) is finally a senior! And guess what? In her third year of being as a County Line staff...