Miley Cyrus back with a 'bang'
After a three year hiatus Miley Cyrus was hoping for a big comeback into the Top 40 world, and without a surprise, she got it. Her new album, 'Bangerz,' was able to reach number one worldwide upon its release date and was all anyone could ever talk about. Cyrus' new sound was quite a change from her previous album, Can't be Tamed, in which her former rebellious tunes transformed into a mix of vulnerbility and girl power.
A couple of songs feauture guest apperances by Nelly, Big Sean and Ludacris to name a few, to supposedly add something new and different into the mix. Ironically those extra voices that were incorporated into the music did not do much for the songs, like in "My Darlin"featuring Nelly and "FU" with French Montana. Instead they repeated the exact same lyrics Cyrus was singing but with much more autotune.
The majority of the tracks were heavily over produced as well as auto tuned, and some even had a snippet of a robatic woman saying 'Mike Will Made It' which became irritating to hear as the album carried on. With all that set to the side, there were some that stood out. One of the hit singles, "Wrecking Ball", shows the softer and damged side of Cyrus. The song goes through nostaligia, remorse and upset turns, explaining the slowly deteriorating relationship ('I put you high up in the sky/And now you are not coming down/ It slowly turned,you let me burn/ And now we are ashes on the ground'). "On my Own" and "#GETITRIGHT" have a confident and fun filled vibe with a catchy beat that could have easily been a hit single.
Even though the album is mostly promoted as pop, it is clear that Cyrus tried to switch things around and incorporated some of her country roots into a few songs. From the begining, "4X4", has a very prominent fast beat that might remind you of a hoedown. The track even includes accordion sounds and fast foot stomping, all keen to a rodeo song.
All in all, I give 'Bangerz' a 7/10 for its powerful lyrics in the girl power driven tracks and its catchy and upbeat tunes as well as the different turns it took. Yet it lacked to make the most of the artists that collaborated on those tracks as well as Cyrus' powerful voice that was hidden behind excessive auto tune and overly produced sounds.
Leave a Comment
About the Contributor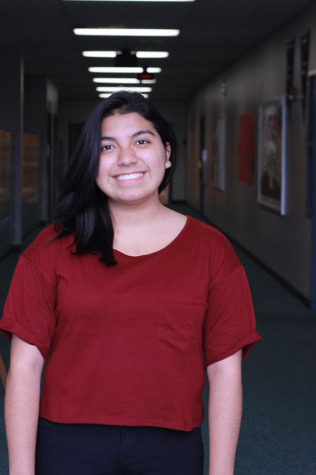 Sara Saavedra, Entertainment Editor
Sara Saavedra is finally a senior and the Entertainment Editor for the County Line. She's a big music enthusiast and often spends her days jamming to...