Alternative band wows with latest release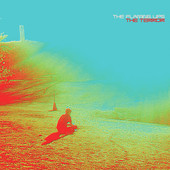 The Flaming Lips' front man, Wayne Coyne, explained in a recent interview how progressive playing at South by South West is, seeing as each year everything changes.
The same goes for their ability to transform intoxicating lyrics and colored sounds into full-length albums.
This American neo-psychedelic band has been around since 1983, and with that they have refined their exuberant and comely vibe throughout the years, always remaining relevant.
Their latest release, The Terror, brings out the melancholic melodies and heavy layer of synths that have been missing from their last 13 releases.
Each track almost personifies the name of their 1995 album Clouds Taste Metallic, as it's an album of dusky and murky sounds, yet they are presented in a light, free-flowing way.
"Look the Sun…," the opening track, presents a heavy atmosphere, almost claustrophobic. However the second track, "Be Free, A Way" opens up in a in a carnal way revealing meditative, drone out lyrics.
"The Terror," track five on the album, elegantly breaks through the obscure and shadowy vibe of the record and almost gives the word 'terror' a soundtrack.
The Terror strays away from the vibrant style The Flaming Lips bring to American rock, however it succeeds through it's eerie, layered tone that is similar to that of the shoegaze groups.