The return of David Bowie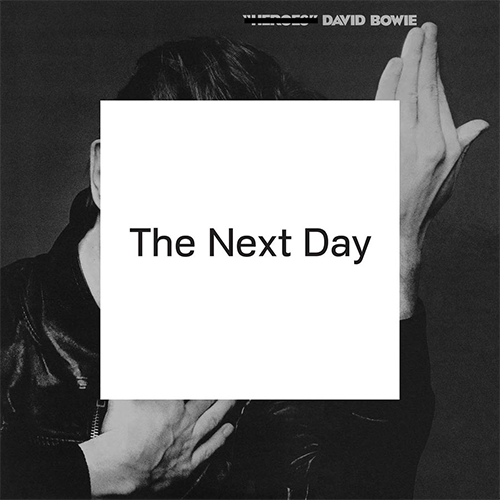 Music legend David Bowie released his first album in ten years, The Next Day, on March 12. After a decade of Bowie's supposed retirement, the album is a magnificent comeback.
The cover art is comprised of a simple white square imposed on top of the artwork of Bowie's classic 1977 album, Heroes. The album cover's simplicity creates a stark contrast with Bowie's flamboyantly theatrical glam rock past, and establishes the self-referential reflective tone scattered throughout the album.
On the whole, the album is fairly dark. From the first song's mocking chorus—shouting "Here I am, not quite dying,"—to the final song's haunting tune, "Heat," Bowie reminds the world that he is still alive, and still a songwriting master. The creepiest song on the album may be "Valentine's Day," a song that, at first, appears to be about the holiday but upon further inspection describes a mass shooting. However, the track "Love is Lost" carries the album's dark intensity best, with a buildup supported by a relentless riff that gradually sharpens as the song goes on.
The biggest change of pace in the album is the touchingly reflective "Where Are We Now," which trades in the intensity found throughout the rest of the album for a mournful, pensive tone. Besides bringing powerful emotion, "Where Are We Now" showcases Bowie's famous voice well on an album that in some places neglects Bowie's greatest asset.
The album's greatest weakness is probably the tendency of some of the songs in the middle of the album to skew away from Bowie's lyrical skill set and towards the psychedelic. The song "If You Can See Me" in particular sacrifices some of Bowie's talents in exchange for novelty and strangeness. However, even the weakest songs fit well with the rest of the album, creating an effective flow from start to finish.
The Next Day does not just achieve greatness because it marks the comeback of David Bowie. Though it plays effectively off of Bowie's past work—for example, the second-to-last track, "You Feel So Lonely You Could Die," ends with the same drumbeat that starts Bowie's famous album Ziggy Stardust—it also stands alone as a masterpiece, by going off in new directions and creating a musical universe of its own.
Much has changed in popular music culture since Bowie's last appearance in 2003, but The Next Day still feels the same as any other great Bowie album. The album's message is best summed up by Bowie's own words in the track "Love is Lost"—"Your country's new, your friends are new, your house, and even your eyes are new…but your fear is as old as the world."