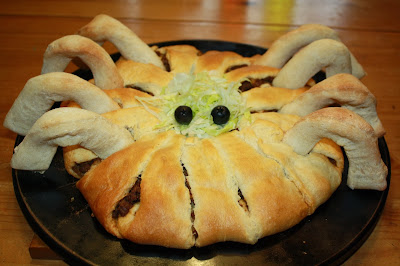 If you like crescent rolls and tacos, this snack is for you! With crescent rolled legs and crescent rolled rings stuffed with beefy spiced filling. It's cute, creepy, and tasty.
Step 1:
 In a big Skillet over medium heat, add Canola oil, and let it simmer. Then slice some onions, and some garlic and add them into you're Skillet.  Add a half tablespoon of salt and stir consistency for 4-5 minutes. Add beef and cook it until tender. Break the beef down with a wooden spoon until you see the brown texture and cooked meat. While cooking, you may see extra fat that will need to be removed.
Step 2:
Add in a can of beans, water, chili powder, cumin, oregano, and 2 teaspoons salt. Let it sit on medium heat until it starts boiling, then lower it down to medium-low. Stir consistency until thickened and warmed through. About 5 minutes later, remove the heat and let cool. Add cheese and stir.
Step 3:
Arrange racks in upper and lower thirds of the oven; preheat to 375 degrees. Line 2 sheets of parchment paper.
Step 4:
For the spider body, unroll 2 crescent rolls and divide into triangles. Arrange the triangles on one prepared sheet with all the points facing out and the shortest sides of the triangles overlapping to form an empty 6 circle in the center.
Step 5:
Add a spoonful of cooled taco mixture over the overlapping portion of rolls, creating a ring of filling. Fold pointed ends of rolls over filling, and tuck under.
Step 6:
For the legs separate the remaining can of crescent rolls into triangles. Fold the tip of the triangle inward by 1″, then roll triangles up from the longest side, creating a thin rod about 7" long. Arrange on a second prepared sheet in the shape of a wide V, then repeat with remaining crescent rolls.
Step 7:
Bake spider body on lower rack until golden brown and cooked through, 15-20 minutes. Bake spider rack on upper rack until golden brown, 10-20 minutes. Let cool slightly.