Senior walks away with minor injuries after car wreck
Spinning.
Spinning, then the car colliding with a guard rail and a white airbag slamming into his chest. Without a doubt, it saved his life.
This was Tuesday, Feb. 19 for senior Sebastian Gualy. It was also the most terrifying experience he ever endured.
While driving home from lacrosse practice, Gualy was hit from behind by who police believe to be a hit-and-run drunk driver. Although he walked away from the accident virtually unharmed, Gualy's back windshield shattered and both the back and front of his car were demolished.
"I was surprised that I was alive, and a lot of people were, too," Gualy said. "The EMTs showed up and they didn't see me, because I was behind the cop car talking to him. They asked where the body was, because they thought I was done."
Gualy was on his way home from practice when he noticed a truck swerving through the lanes behind him. He switched into another lane of traffic, then glanced down to check his speedometer.
"But when I looked up, all I saw were lights," Gualy said. "And he hit me – at an angle. He came in from behind and to the right of me, right into me."
The collision of the two cars caused Gualy's car to spin quickly toward one of the guard rails.
"I started to slide with my car; my car was going faster than I was," Gualy said. "Everything started going really slow, but when you look back on it, it all happened so fast that all I had time to do was react."
The front right corner of Gualy's car hit the guard rail. His airbag went off, but it was not over yet.
"I was spinning so fast that I rebounded off the wall and started spinning the other way," Gualy said.
He stopped attempting to control his car and gripped his steering wheel with everything he had.
"I held on and saw cars coming at me – that was really, really scary," Gualy said. "I'm definitely thinking I'm not going to make it by this point. I'm thinking, 'I'm done. My airbag is deployed, there's no way it's going to fill up again; someone is either going to hit me while they're driving, or there's a wall on the other side: the impact alone is going to kill me.'"
When the front of Gualy's car hit the second guard rail, his front bumper ripped off, decreasing the car's momentum. He rebounded again, his car out of control until he heard "the grind of metal on concrete."
"I saw my engine start to smoke, so I grabbed my phone and my wallet and I made sure that I had everything: both of my arms, both of my legs," Gualy said. "Nothing was going through me; I was worried because I had lacrosse sticks in the back seat."
After walking out of his car with only airbag burn and muscle tension, Gualy made sure his most prized possessions were okay.
"So, priorities first, I got my lacrosse sticks out," Gualy said. "They laughed at me when I asked for my sticks and bag. I broke one, which, for me, is really sad."
Gualy's next priority was to call his parents. They were eating dinner at home when his dad answered the phone.
"After the accident, I got out of my car and called my dad immediately," Gualy said. "My brother and sister were freaking out, but my mom and dad took the drive. My mom was a mess, just like I was. She looked at the car and she just burst into tears."
When he was younger, Gualy's family was in a similar accident with a drunk driver.
"We spun and hit a wall and everything," he said. "I guess [seeing the car] brought a little of that back to her."
Gualy considers surviving the accident to be "nothing short of a miracle."
"He's definitely got a plan for me if He's going to keep me around after that," Gualy said.
Leave a Comment
About the Contributor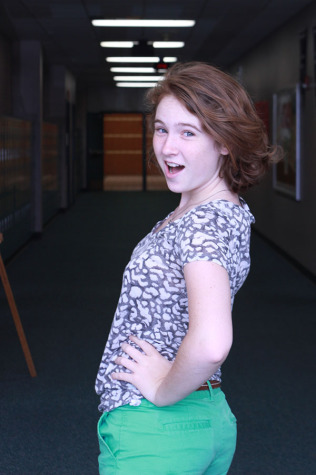 Emily Burleson, Co-Editor-in-Chief
Emily Burleson, senior, is Managing News Editor for her third year on staff.  The thrill of reporting breaking news is her favorite part of working on...