Girls Cross Country Competes in State Championship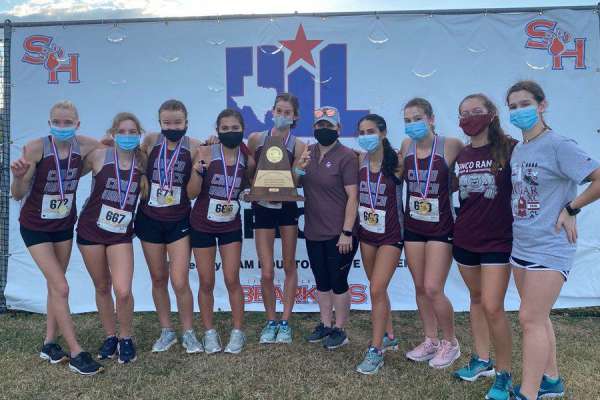 The Cinco Ranch girls cross country team got fifth place in the 6A UIL state championship on November 24, getting 152 points. Runners Sophie Atkinson and Heidi Nielson were able to get second and third respectively in the race. The team had to put in a lot of work to get to the state championship.
"These athletes pretty much work year around," girls cross country head coach Dana Mathis said. "They start by running six days a week all summer, to running six days a week throughout the school year. They have gone through countless miles and many workouts to get into race shape that has got them to this state meet. Also, all of these girls have been in cross country since junior high. It is a lot of preparation both physically and mentally to prepare for three races that matter: District, Regional, and State."
Senior Cross Country runner Camila Corser went into more detail about how the practices work. They have a schedule that they adhere to every week.
"On Tuesdays and Thursdays, we do workouts," Corser said. "That could be continuous two hundreds [meter runs] or one thousands [meter runs]. We'll [also] do repeat 1k runs, twelve 400 [meter runs]. We'll do them on repeats to get longer workouts in. On days we don't do workouts, we do regular runs. We usually run around six miles."
Most athletes also have their own routine before a game. It usually brings them good luck and calms down nerves. For example, Tiger Woods wears red on Sundays, and Cristiano Ronaldo puts his right foot first on the soccer field. For Corser, it is no different.
"I like to put in my headphones and do the warmup," Corser said. "[Something else] I like to do before my races is my hair. It gets me going. It's something I do while I listen to music. Something that we do as a team is we all get in a circle and we do 'left foot in'. We do that [to symbolize] no one getting left behind. We also pray together."
Cross Country was acknowledged to be a hard sport by both Corser and Mathis. However, they said the reward was well worth the effort.
"Don't shy away from being part of such an amazing and successful group just because of running," Mathis said. "Everyone starts at different places, but we all have to start somewhere. You will be hooked!"
Since Cross Country can be a hard sport for most to get in to, advice can be helpful. Corser's advice was very helpful to her career.
"My first ever running coach told me to love the struggle," Corser said. "He always told us to try and love how hard it is. It's so rewarding when something is so hard and you can do great things with it."
Corser talked about how to do good in cross country if you are interested in it. This, along with loving the struggle, could help you succeed
"Be really consistent," she said. "Running long distance is really hard and you could get out of shape really easily. Taking even a week off could really set you back. If you want to succeed at the sport, you have to dedicate a lot of time to it…make sure you are doing runs everyday."