Girls cross country team places sixth at State meet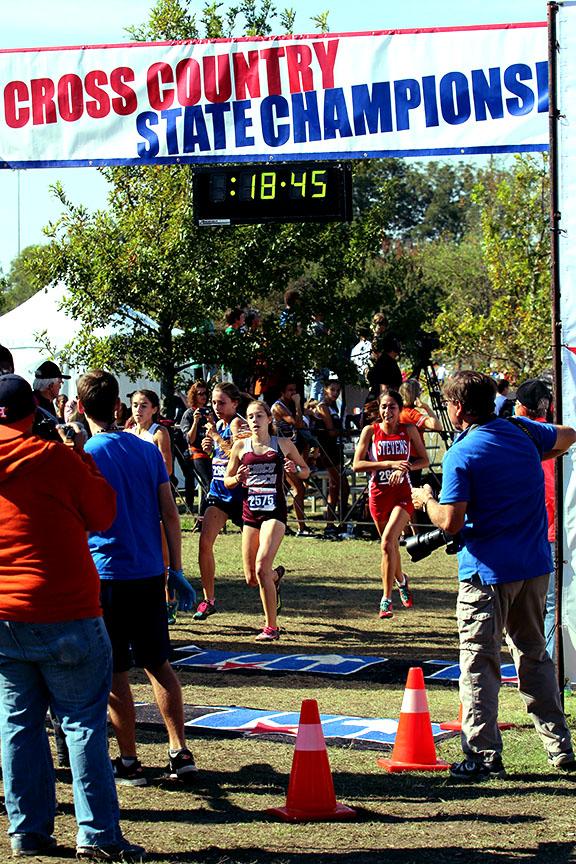 Shoes slap the ground with the vigor and ferocity of a tiger about to pounce. The only thing running through their minds is the intense need to pass up the girl in front of them. In the periphery, crowds are cheering, but they block it out and focus on the end goal. The air is getting cooler, but their resolve still burns high and mighty like a torch.
"I was definitely feeling the runner's high at state," Junior Reagan Kappel said. "In the heat of the season, we really get into it. It's all about staying motivated and pushing yourself."
This 2016 UIL State Cross Country meet on Nov. 12 was a great success for Juniors Reagan Kappel and Megan Hopper, who came in 22nd and 24th place respectively out of over 250 competitors. Also coming in the top 100 were Isabella Carrasco, 45th place, Isabelle Nielson, 46th place, and Fiorella Vera, 53rd place. The team collectively placed 6th at the meet.
"As a team, our strategy is to have the first one through seven [runners] go through as fast as they can, but individually, everyone has their own strategies and goals," Kappel said. "Me, I work on the middle of the race because that's where I struggle."
These five competitors made up the entirety of the qualifying team for Cinco Ranch, as only their scores were counted.
"The lowest team score wins, so you want to have your people come in as fast as possible, obviously," Kappel said.
Many times they have to go through rigorous training to augment their performance.
"We have two practices a day twice a week, and morning practices every day, Monday through Saturday," Kappel said. "I've gotten used to [getting up early in the morning] but it was [difficult] at first."
In spite of the many difficult obstacles they face, the team is determined and very oriented towards a unifying goal. According to Kappel, even though the climb is difficult, the view from the top is great.
"The team atmosphere [is the best part of cross country] because we're all going through such a hard race and it's good to have people to bounce off of," Kappel said. "We're all supportive of each other."