Cinco Ranch Cross Country wins big at State competition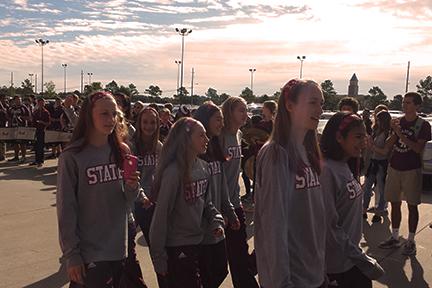 The girls' cross country team walked away in 5th place at State Nov. 8, with the boys' team placing 12th, after successful district and region meets.
"[The district meet] proved that we made it to regionals and could move on and get to the state meet," sophomore runner Sara Halvorsen said soon after the girls' team placed first at regionals. "It boosted our confidence in our abilities."
With the girls' regional win, all seven runners placed in the top thirty. At state, the team totalled 187 points. Freshman Reagan Kappel finished the race twenty-second and Freshman Megan Hopper placed fifty-second.
The Boys' team finished district meet in third place, but took second at regionals to advance to state. Three runners were in the top 100 at state, including junior Nathan Gift (twenty-third) and junior Robert Leigh (seventy-seventh).
The teams attribute their success to a lot of practice and strong teamwork.
"Our team is great, we have a good bond and we all get along," sophomore runner Kaitlyn Garza said.
Other Katy ISD schools also placed at the state track meet, including Seven Lakes boys (fourth) and Seven Lakes girls (eleventh).
"We have a lot of good runners, we're like a family," sophomore Isabelle Nielson said.