Ruminations of a senior
Hang on for a minute...we're trying to find some more stories you might like.
I wrote a poem in January, just after the second semester of this year began. In it I handed my fears, my hopes, my stresses and my ponderings to an online audience of writers.
The one and only reviewer of the poem referred to me as the character again and again. Proper poetic language, I suppose; the speaker and the author are not always the same individual. Yet this disconnection spoke to me, and reminded me that I will never truly be who I am in my poems. I wondered how the reader might have perceived my feelings, knowing that he or she would never meet me in person.
A character. In a poem, in a story. In many ways this has summed up my experience at Cinco; each day I walk the halls and venture to my classes, feeling as if I'm the grizzled old veteran of grades past, or the young vagabond looking for adventure 'round every corner. I take myself to fantastical fictional worlds, where I play these characters to their greatest extent. And then I return, letting the memories scrape over the top of my mind, focusing my attention back to where everyone says it belongs.
There are few things left for me here. I labor away each day on the school newspaper, as my title might suggest. I laugh and converse in the relationships into which I've settled in my various classes. I attend the Superintendent's Round Table conferences, listening to the opinions of other student leaders and voicing my own. And each day, I tell myself that it will soon be over. I will lose my access to the newspaper's website, lose contact with the friends I have made and advance my education in a place where our superintendent has no jurisdiction, all in a few months time.
So how might a young man spend his time during these last few months, knowing his exodus is constantly approaching? He might focus on accruing as much scholarship money as possible, his college already decided. He may try to attend as many social events as he can, knowing his friends will be far away. Or perhaps he might retreat inside himself, waiting for the end to pass with gleeful, but agonizing and nervous anticipation.
I find myself falling into the third category, unfortunately. I wish it wasn't so; to be fair, I have signed up for scholarships, and I have gone out with friends, but… it is easier to sit in my room, working on my own creative projects, becoming lost in fictional worlds. It is easier to take myself on long, reflective walks, until of course my thoughts turn to embers and my mind turns to fire, and I do something that will take myself away from the heat.
What can a student say about senior year? More importantly, of what does he choose to speak? The glory of finding a college, or the fatigue of applying? The joyful outings with friends, or the inevitable schisms in friendships? The satisfaction of getting a driver's license, or the perils of the DPS? How much of a struggle is an achievement worth?
I apologize that in this piece, I do not have the answers. I am tired. I am worn out. And I will not truly know until I graduate. And when I have the answers, I am not sure whether I will tell them. I do not know if they will want to be heard.
About the Writer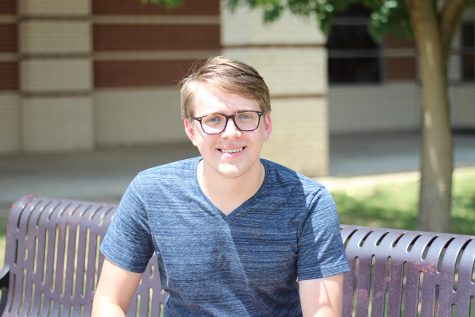 Samuel Teas, Co-Editor-In-Chief
Samuel Teas, after being drenched in the tidal wave of junior year, and is just now crawling onto the beach that is senior year, is now Co-Editor-In-Chief...