District bond to come before voters
Revised edition features new schools, renovations
The Katy ISD Board of Trustees passed an order this August calling for a public election of a bond developed and approved by a community panel in July. The $700 million bond includes funds for six new schools, renovations at all campuses and a new stadium.
"Our priority is the students, and that's what this bond is all about," Bond Committee Chairman Keith Carmichael said. "Nearly 94% of the entire $748 million bond package is designed to enhance the education experience, enrich curriculum and classroom instruction across the district by building new schools to accommodate our rapid growth, updating new schools that are 30-plus years old, and providing technology upgrades."
A similar bond with funds to build a STEM Education center, Agriculture Science center and new stadium failed to pass last November following controversy surrounding the budgeted cost of the stadium. The newly proposed stadium, a "scaled down" version of the original plans, is budgeted at $58 million, according to published Katy ISD bond election materials.
Projects targeted for Cinco Ranch include the natatorium's first major renovation, updates to Science Department classrooms, field house expansions and new carpeting.
"Originally a complete overhaul of the pool was scheduled with the bond, including resurfaced deck, new paint, new air conditioning units, redoing the locker rooms floors and showers," head swim coach Christie Patterson said. "They replaced pump systems and replastered the pool this summer, so that is no longer on the list."
The possibility of a second stadium is meaningful for all district organizations that plan to use the facility, a fact highly cited by the district in its promotion of the bond election. Most students and organizations at Cinco Ranch, however, see the second stadium as a chance to drop Thursday night and Saturday morning football games.
"Our team will be playing four Thursday night games in a five week period," head football coach Don Clayton said. "Playing the early game of a Saturday doubleheader at Rhodes Stadium is equally challenging because all early games start at 11:00 am."
Members of teams and organizations affiliated with varsity football, such as marching band, dance team, color guard, Ranch Hands, varsity cheerleading, Good Sportsmanship League and athletic trainers are also required to attend each football game. Yearbook photographers and Miller Career Center videographers are also required to cover each game.
"A lot of girls complain that they don't have time to do their homework, and we get back late, so that's not a great amount of sleep on Thursday nights," Cougar Star Historian Amanda Wygal said. "For Saturday games, more girls than usual are gone, either out of town or for special things."
Concern for district and school pride, as well as revenue loss, also factor into support for a second stadium.
"If the voters do not support the bond, the District will look for alternate locations for varsity football games that cannot be accommodated in the current facility," Clayton said. "This could involve renting facilities in other Districts such as Alief, Waller, Cy-Fair, and Houston ISD at times when their facilities are not in use."
If the bond passes, Katy ISD expects the second stadium and agricultural sciences center to be finished in 2017. All six schools called for in the bond, as well as plans for three additional elementary schools, are planned to finish construction by 2019, with the eighth high school opening for the 2017-18 school year.
New school construction is a priority for the district, as the 70,000th student joined Katy ISD last month and 48% of proposed bond funds are apportioned to building new schools.
"One of the country's leading demographers, Population and Survey Analysts, annually conducts a population study for the Board and District that shows us where the growth is taking place and how many students to expect," a published Katy ISD fact sheet said. "Their data also shows that by 2018, we will have an enrollment of more than 80,000 students. Each year we have used this firm, their projections have been 99.9% accurate."
Eligible voters in Katy ISD can vote for or against the bond election at the school on election day, Nov. 4. More information about the Katy ISD bond election is available on katyisd.org. Early voting on Oct. 20 through 31 is available at the Fort Bend County Cinco Ranch Branch Library adjacent to LaCenterra.
For extensive cost and completion date information for all proposed bond projects, see the official Bond Committee Recommendation sheet.
Leave a Comment
About the Contributor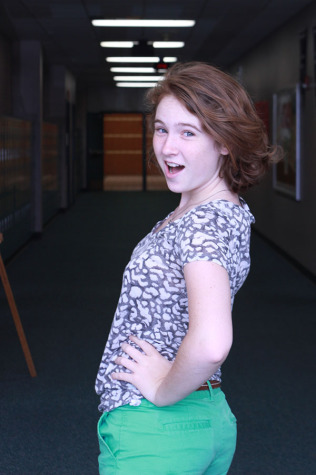 Emily Burleson, Co-Editor-in-Chief
Emily Burleson, senior, is Managing News Editor for her third year on staff.  The thrill of reporting breaking news is her favorite part of working on...