Fall shows center on "The Wizard of Oz"
Cinco Ranch Theatre Company and Cougar Band's fall shows. The band's show "If I Only Had…" is performed at every varsity game at halftime and CRTC's "The Wizard of Oz" will open Oct.10 and run through Oct.12. Both fine art departments chose the Wizard of Oz independently and found that it worked out for both of them.
"We had talked about it last year," assistant band director Ray Jones said. "It was coincidental that it happened."
Although both are centered around the same book, they are distinct in the way they are portrayed. CRTC's perfomance leans more towards children because of its youthful vibe, while Band's explores the emotional side of Oz.
"There are a lot of fun characters we get to meet on stage, such as the Wicked Witch of the West, [unlike] in the marching field, which is mostly centered around the main characters," senior Ian Baker, a band member and CRTC officer, said.
The band directors chose the most familiar songs so the audience could connect with them. There are three total movements, each of which represent the personality of a core character.
"In the first movement, you can hear the twister coming and taking Dorothy to the land of Oz," Baker said. "The second movement is entitled 'If I Only Had a Brain,' which is about the scarecrow. The third movement, 'If I Only Had a Heart', is about the Tin Man."
Although the performance is centered around music from the Wizard of Oz, the marching show also incorporates other types of music.
"[The band] is also playing Short Ride in the Fast Machine and Nessun Dorma, to give some exposure to new music through what they already knew in the Wizard of Oz," Jones said.
The CRTC production stars seniors Kameron Knott as the Wizard of Oz and Rebecca Russell as Dorothy. The play is an adaptation of the original book by L.Frank Baum, not the 1939 movie.
"What I liked about this play version was that I thought it had more in common with the original book, as opposed to the movie," theatre teacher and director Stephen Brown said. Toto, Dorothy's dog, will be played by freshman Martell Wallace.
"[Toto] does so many important things," Brown said, "I thought it was really important that he needed to be played by a person. Martell is already doing an excellent job finding a balance of how much dog and how much human to act."
"The Wizard of Oz" debuted Oct. 10. CRTC had two shows that Thursday and Friday and had a matinee show on Saturday where the audience could take pictures with characters after the show.
Leave a Comment
About the Contributor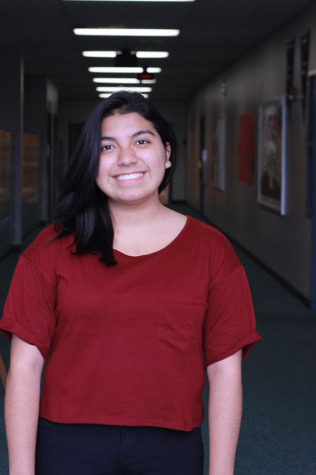 Sara Saavedra, Entertainment Editor
Sara Saavedra is finally a senior and the Entertainment Editor for the County Line. She's a big music enthusiast and often spends her days jamming to...