The cost of being a senior
Mounting costs of graduation generate frustration
Hang on for a minute...we're trying to find some more stories you might like.
For the past three years, I could remember that particular time of year that would plague every senior's existence with both excitement and stress–graduation. An iconic symbol of celebrating the completion and accomplishments of every high school senior. From freshman to junior year, I've always had feelings of both yearning and envy watching the seniors excitedly talk amongst themselves about all the senior souvenirs they plan to buy from the thick blue Herff Jones catalogs. I glorified their status of finality and completion, itching for my day to come in which I get to hold that symbolic packet in my hand along with my peers.
Finally, the day of graduation announcements came. But my feelings of excitement and anticipation was drowned out by confusion, stress and slight disappointment.
At the Herff Jones presentation, many audibly expressed their disappointment upon the unveiling of the newly-designed graduation cap and gown; a slightly more matte gown featuring three bold, thick white stripes lining the sleeves and the school logo on the shoulder.
To add insult to injury, the presenter made note that because the cap and gowns were specially designed, all the cap and gowns had to be ordered on November 7th and 10th, and no late orders would be made without a late handling fee.
So all 700 or so of us were going to order their caps and gowns–mandatory for graduation–in only two days during 30 minute lunch periods.
Considering the large number of us and the very short time period, I figured it would impossible to get all the orders in within two days. Low and behold, it was.
I have nothing against change–in fact, I was thrilled to initially hear news about our class officers working on a new cap and gown design for our class. But in light of Hurricane Harvey, many are still rebounding from the financial impact that the storm caused.
"
Many of my fellow senior classmates are still without a home. Many lost all their belongings and childhood memories. Many, though not the majority, have parents who are struggling to pay rent, bills or even out food on the table."
Graduation is a coveted event of celebration and achievement that every senior should be able to participate in without the worry and stress of the cost of the gown. Our class' disappointment with the new caps and gowns stems from not only from not having a say in the making of the design, but also the cost; with graduation packages starting at a steep $99.95.These circumstances have proven to be very stressful and confusing to many seniors, myself included.
Although there is nothing to be done that can change the price or design of the cap and gowns, it really gave me insight on how expensive senior has already been in just these past three months, with senior pictures already taking a heavy toll on my wallet, costing over $150.
From the outside looking in, I've always glorified senior year as this final year before full-fledged freedom and the advent of adulthood. But with the mounting costs of everything from class shirts to graduation gowns, my prospect of graduation has dimmed; with not only costs of college tuition eventually becoming the bane of my existence, but also the concept of paying taxes, rent and bills all on my own very soon.
Four months into my last year of high school, I regret glorifying senior year as a time of excitement and freedom. Not that it hasn't been fun and all, I just wish someone told me I would need a credit card or two.

About the Writer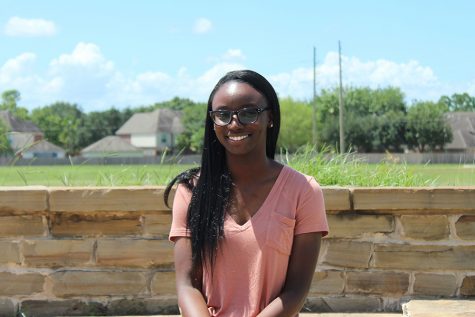 Angelica Arinze, Features Editor
Angelica Arinze is a senior and Features Editor this year for the County Line. Between indulging in seemingly endless cups of frozen yogurt or complaining about her unfortunately-required science and math classes, she loves to express herself by reading amazing books and writing stuff she cares deeply about. She was born and raised in Reno, Nevada, and moved to Texas her freshman year in 2014. Though it may seem like she doesn't have much to say or talk about, this doesn't mean that she won't make her opinions known. She also likes to learn more about the world everyday, research interesting facts, and take the occasional Buzzfeed quiz (although it's more like 20 quizzes in a span of 5 minutes). Having switched from the Yearbook to the Newspaper, she is excited to learn new ways to spread school news and connect with the humans of Cinco Ranch.