New head coach, experienced team seek to defend District title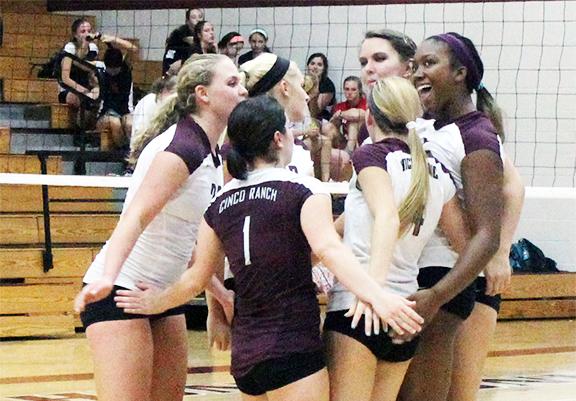 The Lady Cougars volleyball team is under the command of new head coach Danielle Wells,  replacing Tammy Laurence, who coached the squad for 14 seasons, including 12 consecutive postseason, and eight district championships as a member of District 19-5A.
"Not too many changes have taken place since Coach Laurence left," Coach Wells said. "We added only a few new players this year but most are returning varsity players. The girls are very motivated to win District again and anticipate going deep into the playoffs."
Last season, the Lady cougars were eliminated from the 2012 UIL Volleyball Playoff after losing to Cypress Woods in the Regional Quarterfinal.
"We are very motivated this year to finish even farther than last,"  senior co-captain McKenzi Poehl said. "We want to make a statement not only for ourselves but also for our new head coach."
After opening the season with several big wins in non-district play, the team struggled in pre-district tournaments losing to Cy-Fair in the first round of bracket play at the Spring Branch Tourney.
Despite early struggles, Wells and the team remain optimistic about defending their district title.
"We have a lot of big hitters on our team. Many of our players have the capability to end the play with a strong hit or kill." Wells said. "Also our defense is strong as well. We have been working on pursuing every ball."
Chemistry on and off the court has also led to much of the team's success.
"Our biggest strengths would be that many of the girls have been playing with each other for many years so we click better as we mesh more and more throughout the season." Poehl said. "It helps that we have friendships off the court too so those carry on to the court.
The Lady Cougars dropped their district home opener to Memorial in a tight 2-1 bout. They face off against Memorial again on the road on Oct. 8.
Wells says the team has struggled in setting and passing in game situations.
"We need to stay consistent in these two areas in order to play our best."