An Inside Look to the Sadie Hawkins Dance
EDITOR'S NOTE 1/23/23: An earlier version of this article misspelled Elbanna as "Elbana". This has since been corrected.
EDITOR'S NOTE 1/27/23: The Sadie Hawkins dance is canceled. Refunds will be issued to the card used to purchase online. Donations will be used for the Senior Fun Food Frenzy in March.
The Sadie Hawkins dance returns to Cinco on January 27, 2023. The dance comes back after a four-year absence and all grades are allowed to join. Buy tickets at https://bit.ly/sadietickets.
"Vice President Jen Edozie woke up one day and had a dream of having a Sadie's at school," Class of 2023 President Adam Elbanna said. "Not a lot of people know this, but Sadie's has been a common thing at Cinco in the past. I remember from my brother's freshman year [class of 2019] they stopped doing it."
Normally, Cinco has two dances: Homecoming for all grades in the first semester, and Prom for seniors in the second semester.
"We all would really like to have another chance for Cinco students to have fun and fundraise for the school with another dance during the time between Hoco and prom." Elbanna said.  "An informal dance with relaxed rules that helps fund other school activities like prom, other classes, and more is a win-win in our books."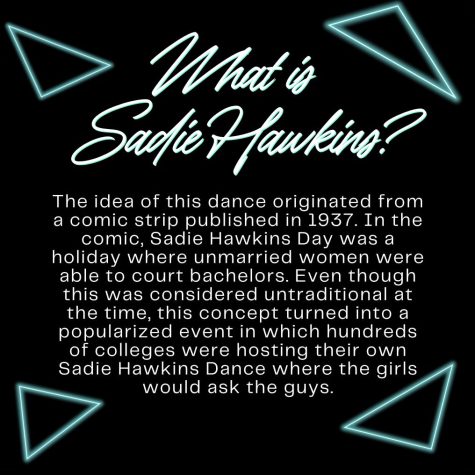 It's traditional for girls to ask guys out for this dance. However, Sadie Hawkins is all-inclusive and students don't need a date to participate.
"We wanted to do something that the students would enjoy," class of 2023 Co Student Council President Zoe Delfish said. "We created a google document with some ideas and had the students pick what they wanted. We liked the decade's idea because it was very broad and we thought it would be fun to see the students dressing up from different decades!"