Project GRAD changes venues
While traditionally always held at Dave and Buster's, this year's venue for Project Grad on May 25th was changed to GlowZone due to location and budget complications.
"The location was changed to reduce the cost as well as bring the event closer to Katy," Carol Campbell, event coordinator, said. "We sent out a survey on Survey Monkey earlier in the year to ask parents what they would like to see changed. Based on those results we decided to move it closer and try to keep the cost down."
Campbell elaborated on how they facilitated funding and earned money to prepare for Project Grad, as well as reasons for difficulties they experienced.
"We raised money through Food Frenzy, Spirit Nights and donations," Campbell said. "We are completely self funded and don't receive money from any external sources.This year we are struggling. Hurricane Harvey severely impacted Cinco Ranch High School families."
Project Grad is made possible by the Project Grad Booster Club, and parent volunteers work on the event throughout the entire year. Each year has been a success, according to Campbell, but some have been harder than others, especially this year.
"PG has been successful some years and struggled others," Campbell said, "It all depends on the volunteers and what is going on with the community and economy. We want to provide a wonderful event this year despite and because of everything we've been through."
The committee hopes that by bringing the location closer and reducing the cost, not only will it be affordable, the event will have a better turnout.
"Project Grad was created to provide a safe and secure final celebration for our seniors," Campbell said. "For many, this will be the last time they will be with classmates."

Hang on for a minute...we're trying to find some more stories you might like.
About the Writer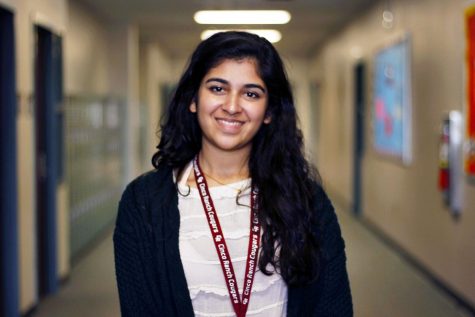 Nandika Mansingka, Editor-In-Chief
When she's not indulging in the wild ride that is college applications, Nandika's 5"1' frame dwells in room 1221 -- aka the place where the magic (and...