Elias Gettemy
 "It pretty much went from zero to 100. Before then, I hadn't really looked at playing the cello as more than just a hobby, a passion, an activity in high school." 
Senior Elias Gettemy first decided to pursue music as a career during the summer between his sophomore and junior year. Now, nearly two years later, he will follow through on his plans and pursue Cello Performance next fall at the Peabody Institute of John Hopkins University.
"That summer, I went to a couple music camps," Gettemy said. "At this one in Minnesota called Stringwood, I went for three weeks and played music with people, and I got exposed to what music can be and what the cello can be. I got home and told my mom 'I want to be a musician.'"
Gettemy first began playing the cello when he was 6 years old.  In the 12 years since then, he has been in the top orchestra throughout school. He has made the All-State Orchestra for all four years of high school.
"My older brother started playing the cello when we lived in New Mexico, and his teacher introduced my family to a very wholesome idea of what music is," Gettemy said. "When we came to Texas we found a similarly wholesome teacher, and I chose to play the cello really because I liked this teacher. He was really bubbly and warm and sweet, and I thought if that's who I get to work with when I say I want to play the cello, I'm all for it."
In addition to school, Gettemy has also played as part of Houston Youth Symphony for nearly eight years. He said it has been "as much a part" of his life as school, and that it has greatly shaped his musical career.
"I've really learned it's important to do things that you don't want to do, because they'll better you as a person," Gettemy said. "Like with playing the cello, there are scales, technique exercises, practicing slowly, and none of that's fun like playing a piece to perform is, but if you just get down in the mud and do the hard work it ends up paying off and you really get to enjoy what you want to enjoy."
Gettemy said he is most looking forward to meeting new people and going somewhere new to make music in college, but he will miss the experiences and time spent with friends, even in small moments like talking between passing periods, here at Cinco.
"It's really exciting to know that at least for the next four years in college I'll be doing something that I really love, and doing it with people that also love to make music," Gettemy said. "In the world of music there's no certain path that you're guaranteed access to. Music is a lot less formed. It's not like getting an engineering degree where you come out of college and have a lot of solid job options. But I'm not really dreading anything- that's what I signed up for. I can't really say where exactly will make me happy now, but I know that I want to do things with music and I know that I like to work with people, so anything that allows me to do those two things will make me happy. That's where I hope to see myself."
About the Contributor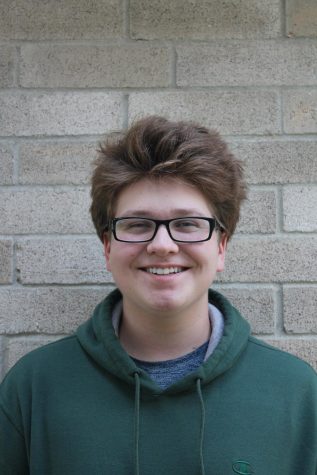 Donovan Nichols, Co-Editor In Chief
Senior Donovan Nichols is returning to the County Line for his third and final year on staff, as Co-Editor in Chief. He can't wait to make the most of...