Featuring Alumni – Claire A Jac Jones
Fine Arts major transitions from building sets to building tiny houses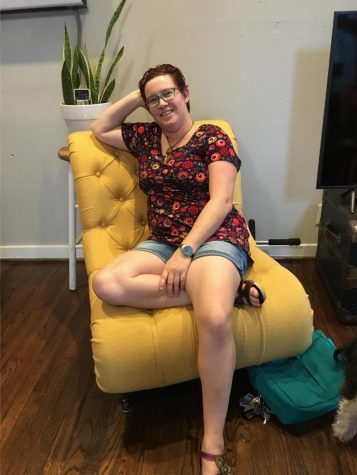 After a successful high school career with the Cinco Ranch Theater Company and achieving a bachelor's degree of Fine Arts, alumnae Claire A Jac Jones thought she knew exactly what kind of career she wanted to have.
"I started off in the theater world," Jones said. "I worked as a scenic designer, a painter and a carpenter. I worked as a staff carpenter at the Alley Theater for eight seasons."
Aside from working with the Alley, Jones pursued her passion for design on her own. She opened her own business in Houston, designing and creating nearly 25 shows each year, until the death of her mother. The tragedy sparked a change in Jones's career path.
"I left the Alley and focused on my freelance design career," Jones said. "Theater is a very thankless job. You have to work long hours and bust your butt to make sure it is perfect for opening night, then you have to do it over and over again, just so you can do enough shows to make ends meet. It's like having finals every week."
Jones felt slightly drained by the constant grind of the theater world, so when given the opportunity to switch things up, she jumped on it.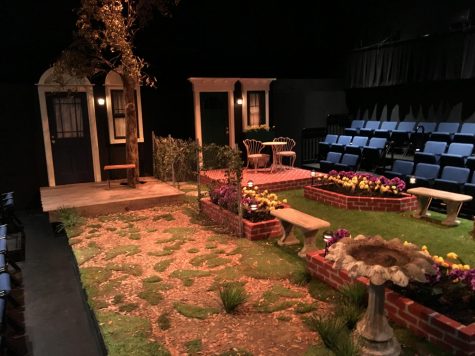 "During this time I was approached about a new project in a different field, so I took the job to see if it was something I might want to pursue," Jones said. "I ended up being one of the lead fabricators for the new Weiss Energy Hall at the Houston Museum of Natural Science."
The Weiss Energy Hall is a 30,000 square foot exhibit that takes a look at the future of energy production around the world. Nearly the size of a football field, it includes a roller coaster that takes place inside of an oil well, a 3D diagram of "Energy City" that represents Houston, the nearby Gulf coast, and the landscape of central and southeast Texas.
"It was a very rewarding challenge; I got to work with new materials and meet other artists outside of the theater world. I finally felt appreciated for my skills and talents," Jones said.
However, the project had a lifespan of only two years, so Jones was forced to find other work.
"I didn't want to go back to theater full time, but I love creating and building," Jones said. "I had a light bulb moment."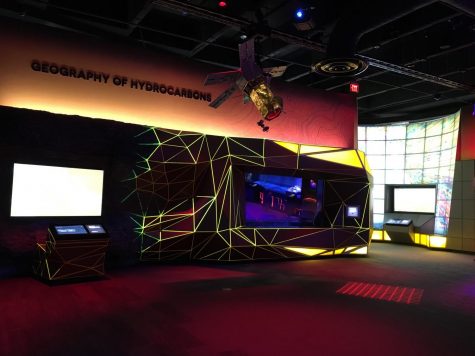 A conversation about the state of the housing market with her realtor father sparked this epiphany.
"We were talking about the unsustainable nature of the current housing market," Jones said. "The majority of my friends do not own homes, because it is economically out of their reach. They all dream of it, but most think it will never happen."
The tiny house movement began in the late '90s, and has been expanding since. Homeowners choose to "go tiny" typically for the low cost and environmental aspects of the unconventional home design.
"I think people are starting to question the value of working all the time to pay for a house that you are never in," Jones said. "One of the biggest reasons people go tiny is for the financial freedom. Tiny homes are economically attainable."
Aside from financial reasons, there are other variables that influence a homeowner's decision to go tiny. Be it the travel-friendly design, retirees eliminating the burden of maintenance or remote employment, buyers are switching to homes that satisfy their budgets and the environment. The process behind creating these homes is produced through meticulous attention to detail put into every window and floorboard.
"I think design education gives you a key to understand to the way we experience the world," Jones said. "It makes you question your assumptions, and evaluate your conclusion. Very much like the scientific method, but for emotions and experiences."
The challenge of building tiny houses lies not in the construction, but in the process of designing.
"The principles of building are easy," Jones said. "The complexity comes when you have to take a finished design and break it down into a set of drawings that the object can be built from. You have to figure out how each board is going to be attached and in what order to get the desired outcome."
Jones's history with building and designing began when she joined the theatre company while she attended Cinco Ranch High School.
"If I had not done theatre in high school, I would not be doing what I am today," Jones said. "In tech theatre, I finally found something that fit with all of my talents," Jones said. "Theatre was where I learned to be a leader. I had to work with my fellow students, their parents, and professionals from the theatre community. Jackie deMontmollin, Ms. De, had an enormous impact on my life. When I met one goal, she moved the metaphorical carrot, always pushing me to be the best I could. Under her tutoring I won the Best Scenic Design contest at the Thespian Festival in Texas and Internationally, The Best Scenic Design for The Sound of Music at the first ever Tommy Tunes Awards and I was recruited by more than 40 universities."
The recognition for her hard work paid off; Jones attended North Carolina School of the Arts, located in Winston-Salem, NC.
"Now it is called the University of North Carolina School of the Arts," Jones said. "My major was scenic design. I graduated with a Bachelors of Fine Arts."
Recognized as one of the best performing arts universities in the United States, alumni from NCSA may be found working on a diverse range of projects.
"You will find my fellow alumni working on ballet, opera, theatre, and films all over the world," Jones said. "If it is a professional performance of some kind, more likely than not, there will be a NCSA alumni working on it."
While theatre may have been the most influential to her career, other courses provided an unexpected impact on her success.
"I would say all of my academic teachers had an impact on me," Jones said. "All of my college classes were arts related. I was not expecting that, so I am incredibly grateful to Mrs. Carswell, my AP English teacher. She really helped me refine my writing skills. Writing is such an important skill set to have in today's business world. The way you put words together can have a huge impact in your career."
Jones's graduating class opened Fielder Elementary as Kindergartners, Beck Junior High as sixth graders, and Cinco Ranch High School as Freshmen.
"My class was unique," Jones said. "We got to start many of the traditions. Because of that we were always very driven, a class of leaders. I think that is enormously important because you feed off of the energy around you. If you surround yourself with people who are constantly challenging you to be better because they are challenging themselves, you will always grow."