Band demonstrates power of magic in new show
"Check, adjust! Reset!" the band director calls over the loudspeaker as all of the marchers and dancers scatter across the concrete to get back into their previous set. After several hours of learning and repeating body visuals, running to and from sets and drawing semicircles in chalk to set directions, the process is repeated until every step, position and set is memorized and mastered.
The CRHS Cougar Band is learning their new marching show for this year, which will be performed at football games and contests around Texas.
The show, Believe, has gone through many deliberations between staff members, music and set writers. They show, which has been in planning since late 2016, is now coming to life on the field this season.
"All of the directors from last year, Mr. Rivera, Mrs. Rudolph, our two Encore directors Mrs. Naylor and Mrs. Deci, along with our music writer, Daniel Montoya, have been involved in the process of creating this year's show," Head Director Ray Jones said. "We got together and threw out as many ideas as we could come up with, and narrowed it down to a show that would revolve around magic. It didn't have a title or any music, but we liked the idea and the possibilities that it had visually."
There are several different ways to go about deciding on a theme for shows. This past year, they thought more along the lines of a general keyword or phrase, such as "magic", or, "believe". They also used specific pieces of music as inspiration.
"The big piece that we are using is Prokofiev's "fifth symphony (second movement). Jones said. "Other music that we used would be 'Wild Nights' from Harmonium by John Adams, and we're also doing a love song from the Cirque Du Soleil show."
Every year the show's theme changes, but this year, not only did the band have a theme change, but they've changed in other aspects as well.
"The big change is in directors, Mrs. Rudolph has left us and Mr. Davis has joined." Jones said. "We've changed some of the areas that the band directors work. I used to just do music, and now I'm doing marching, so Mr. Davis has come in and he's working with music. But other than that, it's basically the same that we've done in the past."
'Believe' is going to be very different from last year's marching show, 'Scorched'. While 'Scorched' revolved around telling a story about a fire and the aftermath throughout every movement, 'Believe' has a different "magic trick" for every part.
"Each movement has a specific magic theme," Jones said. "It involves the second movement as a card trick, the third movement as a disappearing act, and the fourth movement is pulling not a rabbit out of a hat, but a dove. So we'll see those take shape over the course of the next month."
'Believe' is about taking people back to that time in their lives where they might have gone to a magic show where they can see all of the same elements played out on the field. You can catch the Cougar Band marching their magical show at any Varsity football game, Bands of America in Conroe on October 7th, the Katy ISD Marching Contest on October 14th, or the band's UIL marching performance here in Katy on October 24th. The band finishes off their marching contest season on October 28th at Pridgeon Stadium in Cy-Fair.
About the Writer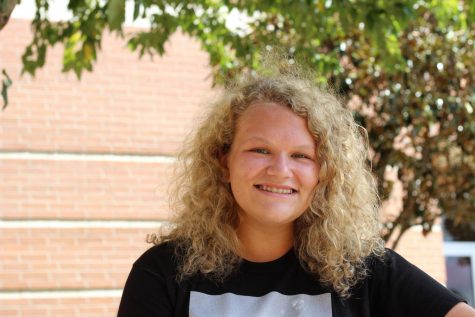 Jordyn Guzman, Co-Editor
Jordyn Guzman, (AKA Gordyn Juiceman, AKA Captain Citrus etc...) is finally a senior! And guess what? In her third year of being as a County Line staff...