Seniors enter business world with entrepreneurial endeavors
There are a myriad of businesses around every corner. Some sell jewelry, some sell t-shirts and tanks, others sell calligraphy art pieces. However, this place is not a mall. The owners of these businesses are not middle-aged, degree-carrying adults, either. They are students at our school who have undertaken entrepreneurship. Seniors Jason Gilcrease, Emma Pitcock and Eric Garcia are a few, among others, who decided to start earning money by creating and selling their own products.
Jason Gilcrease
For Gilcrease, the journey began his sophomore year when he launched his company Edge Outdoor Apparel. The start-up is a unique lifestyle brand that reflects the theme of the great outdoors. Recently, he organized a campaign that reflects his passion for helping others in need. Gilcrease donates to various causes including veteran rehabilitation, environmental preservation, and support for families that suffer from cancer.
"I always wanted to start a business in high school," Gilcrease said. "I wanted to do something that made a positive impact on the world in some way. Edge Outdoor Apparel is all about inspiring people to get outside, enjoy life and live the adventure. Each tee correlates with a different cause that I am passionate about. Ten percent of that specific sale is given to the corresponding charity."
Gilcrease plans on attending Baylor University next year and double-majoring in Entrepreneurship and Marketing. He hopes to meet investors who will bring his enterprising dreams to life.
"I'm not completely sure if I will continue running the company in college," Gilcrease said. "It depends on how sales go this next semester. I may hand it down to a younger student, sell a portion of the company, or continue running it as the sole owner. If I continue running it, I hope to gain publicity by hiring college reps to promote Edge Outdoor Apparel clothing."
Sometimes, his lone position as proprietor poses the greatest challenge of all. While he can rely on his friends and family for support, a lack of motivation can get the best of him.
"The biggest obstacle I face is myself," Gilcrease said. "I believe that I am able to accomplish anything I set my mind to, but I sometimes become apathetic about the company which leads to a reduction in sales. Brand publicity is absolutely vital to maintaining a steady cash flow."
Ultimately, Gilcrease hopes his clothing encourages others to "Get outside, enjoy life, and live the adventure." According to him, the best part of running a business is when people he doesn't know purchase his merchandise. That way, he knows the customer satisfaction is real.
"It's really cool when I see people wearing my clothes in public," Gilcrease said. "There's nothing like having complete strangers with no bias sincerely like the shirts they are buying."
Emma Pitcock
Pen, paper and Pinterest were all Pitcock needed to discover her love for calligraphy in April 2016. After four months of writing her favorite quotes and verses in her free time, Pitcock decided to launch Emma Cate Creates, her personal hand lettering business.
"After spending hours on calligraphy each week, I started to realize that it was something I really loved," Pitcock said. "I decided to make an Instagram account solely to post pictures of the things I was making in the hopes that someone would want to buy something. Now, I have orders every week!"
She first started selling canvases with people's favorite phrases written on them. Since then, Emma Cate Creates expanded to include hand lettered mugs and wood pieces, both of which are in high demand.
"My favorite project has been my first wood piece," Pitcock said. "It was something new I was excited to try, and I wasn't sure how it was going to turn out, but now the wood pieces are the most popular."
Pitcock is one of the two varsity cheer co-captains, and she is also very involved with her church. According to Pitcock, running the business and keeping up with extracurriculars can become overwhelming. However, to her customers and closest friends, she does it all with grace.
"I bought a canvas from Emma because I love how she expresses her love for the Lord through her business and talent of calligraphy," senior Brooke Nicholson said. "Emma is one of the most hardworking girls I know, and her business is just one of few things she does that amazes me."
When she heads off to college next fall, Pitcock plans to pursue a degree in Marketing and continue selling calligraphy artwork, possibly tackling larger scale projects.
"The experiences I've gotten from running this small business really secured my desire to pursue and study business," Pitcock said. "I love working with numbers and people, so this has been the perfect first look into my future."
Calligraphy always brought Pitcock an immeasurable amount of peace, but her business, on the other hand, has given her a type of joy she never expected.
"One of the coolest things I've experienced since starting Emma Cate Creates is the feedback that I've heard from people I've never met," Pitcock said. "Having girls message me on Instagram telling me how much they love what I do really gives me a feeling of joy and compassion."
Eric Garcia
With the help of tutorials on Youtube, Garcia picked up the tools he needed to create his own accessory and apparel company, 3S, his freshman year. After seeing one of his peers make money by selling necklaces at school, he was influenced to do the same and make a profit for himself.
"It looked easy, so I tried it," Garcia said. "I taught myself how to make necklaces on YouTube and started selling to my friends and word spread."
Since its establishment four years ago, 3S gained a co-manager: Seven Lakes senior Patricio Alatorre. The two typically use polls on Twitter to survey the opinion of their customers on what items they'd like to see made next. 3S will also be creating a Youtube channel to vlog and answer frequently asked questions.
Together, Garcia and Alatorre are rebranding the business and designing higher quality lifestyle clothes and chokers for the public.
"I am currently in negotiations with manufacturers to produce upscale clothes, and I am planning to release them this March," Garcia said.
The success of Garcia's entrepreneurial experience with 3S was the catalyst for his future business pursuits after high school. Wherever Garcia ends up, he will continue managing his current company and further developing it.
"I will sell jewelry and high quality apparel in college, and I'm going to expand the business more into the fashion world," Garcia said.
Ultimately, Garcia hopes his products will always bring a smile to his customers' faces. No matter the challenge, he is willing to go the extra mile for the business he cares about.
"The biggest obstacles I face when managing 3S are satisfying everyone and making sure the products are high quality and will last a long time," Garcia said. "My favorite part is witnessing the reaction of happiness my customers have when they see the necklaces for the first time. I love knowing that I helped bring that happiness with a necklace."
Leave a Comment
About the Contributor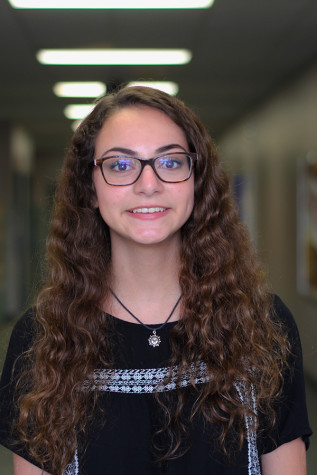 Roba Abousaway, Co-Editor In Chief
Junior Roba Abousaway is Co-Editor in Chief for her second year on staff. A warm cup of earl grey tea, her two cats cuddled beside her on the couch, and...