Greetings, Greetings
Sophomore creates greeting cards for autism awareness
The greeting cards are beautiful, with everything from ribbons to paper cutouts to watercolors. Some are so pretty and well-made that one would expect them to be lined up on shelves in the grocery store among the hundreds of professionally-made greeting cards. The difference, however, is clear once someone flips them over. Each card has a small piece of paper glued to it, with a few lines on a subject close to sophomore Eilisha Thakare's heart: autism.
Diagnosed with autism spectrum disorder at a young age, Eilisha endured jokes and name-calling on the school bus throughout her elementary school years. After six years of being bullied, she put aside her anger and decided she needed to tackle the underlying problem.
"I think the reason why a lot of kids get bullied is because the bullies don't really accept or understand what kids with autism have," she said. "I was really mad at first, but you know what, they are kinda ignorant, and you do need to educate them. It's not necessarily their fault."
That is where the cards come in. The cards are all handmade and unique, some made by others with autism, with a short paragraph on the back that list a few facts and how to approach someone on the spectrum. In eighth grade, Eilisha contacted Suzette Coates, former Special Ed teacher at Cinco Ranch Junior High, after learning about her when she was chosen as the Top Teacher by ABC's Live with Kelly and Michael in 2013. Coates now runs Everyday Opportunities, a local daycare-type program for Special Ed adults. She also runs Camp Journey, a summer camp program for Special Ed kids. Eilisha gives all of the card proceeds to Coates and covers the costs of card materials out of pocket. However, Eilisha only sells the cards for a short time each year.
"I like to make them throughout the year," she said. "I sell during the time range of April only because that's actually [National] Autism Awareness Month."
Her project, which she calls A², is still small, but she and her mother are working on setting up A² as a nonprofit organization and creating a website. Though she has successfully sold cards at CRJH, she wants to expand her sales with Future Business Leaders of America (FBLA) at Cinco. She is also contacting FBLA programs at other schools in the district in hopes of getting the word out.
"They are not just cards," Eilisha said. "They're important messages that should be spread."
With support from her family and friends from the very beginning, Eilisha moves through high school committed to her mission of spreading awareness and understanding about autism. She is living proof of how good things can come from bad experiences, and though she may not know what comes next, she knows she will have support and works toward the day when others like her will be accepted in the ways she was not.
"You can say I've come a long way," she said. "I've got a long journey ahead, but so far, so good."
About the Writer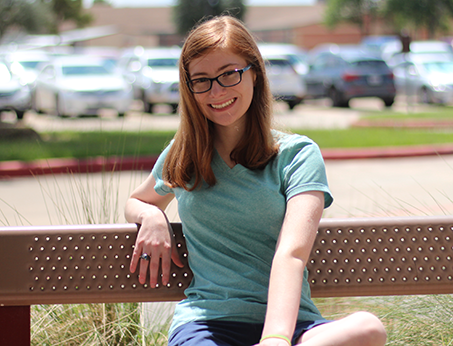 Brynne Herzfeld, Co-Editor-In-Chief
Brynne has almost run out of clever biography ideas. She has recycled a couple lines from her previous biographies.

When she's not slaving away over...