Back for more
Alumni, now teachers, carry Cougar pride into classroom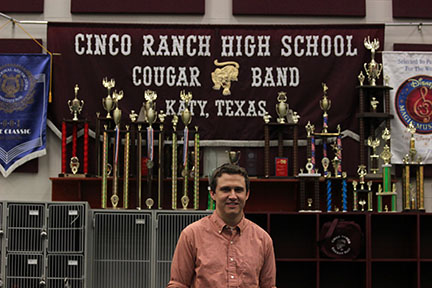 The cougar statue was an all too familiar sight – a sight tied with many memories of joy, accomplishment, and triumph. There lie the colorful murals, roaring with pride and passion, maroon and white. The showcases filled with achievements and medals acquired throughout the years – some old, some new, yet all pieces of a success story. But the most precious of all are the smiles – the smiles of family – the staff here at Cinco Ranch. That's how it feels for teachers William Schieffer and Victoria Smith – both  alumni of CRHS, and now back as teachers.
"It's been sort of fun coming back and just being on the other side of the classroom," Schieffer, a geometry teacher, said. "It's been really easy to transition. Everybody here is just great, so it's been fun seeing the other side, but also knowing, you know, that just 4 years ago I was in the desk, doing the same thing."
As a previous student, it's been easier to adjust and come to work with familiar faces,  some who are even previous teachers.
"Mrs. Kana was my Pre-Cal teacher and Mrs. Sugarek was my Algebra II teacher, so working with them has been great," Schieffer said. "It's been really easy to transition, having known them before."
Along with the perks of being a past alumni come the connections of the experiences of the students.
"I feel like I know a little bit more than maybe some of the other teachers about that life," Schieffer said. " I mean we have a lot of great teachers here at Cinco, and they have the experience of being at many different schools with a variety amount of students, but being here and having sat in the desk kind of lets me have a little more insight on the things they talk about and think about has helped. Especially at Cinco. Having been a Cinco student and being a Cinco teacher now, I just feel like I can relate more with what they're going through."
Besides the previous similarities, there have been surprising changes in school functions in comparison to their student years.
"We weren't allowed to have our phones, not even in the hallway," Schieffer said. " 2.5 started my senior year, so that was kind of new and a good transition. It was Mr. Cross' first year, and he has done a great job over the past five I wasn't there. So it's been fun to see what the administration has done with the campus and to see technology has transitioned from being just an aide in our life to becoming a more dominant aspect of it."
With the taste of having been both a student and a teacher, it's been fascinating to see both sides of the two different environments.
"Teaching and learning at Cinco are very different experiences," said Smith. "It's odd to 'peek behind the curtain', and see the level of preparation and the time commitment teachers make. When I was younger, before high school, I thought teachers slept at school. Now, I know they do!"
The influence of Cinco in their education served as motivation to not only come back, but to also give to the community.
"As soon as I realized I wanted to be an English teacher, I dreamed about teaching at Cinco Ranch," Smith said. "I was very involved in high school, and I had a great high school experience. I was blessed with excellent teachers and role models, and I wanted to be able to give that back to future students."
Passion is not only what drove them towards coming back to Cinco, but has also fueled their drive to teach.
"I hope that my love for the campus and my passion to be here will inspire the kids that are here to keep going on," Schieffer said. "Cinco is great for preparing for college and the real world and moving us forward. I feel that's something you don't get a lot from focus throughout the rest of Katy ISD. I can honestly say for every teacher here wants to be here. You want to wake up every morning and stay late every day for the students. If you're not here for them, then why are you here at all?"
With the best experiences from both worlds of Cinco, the uniqueness has really shone through.
"The drive for education in Cinco is something you don't see in a lot of places," Schieffer said. "Everybody at the school wants to be here and move forward. You don't get a lot of support like that at other schools. Being able to want to be here and having support from family and faculty and the community is what makes Cinco unique. Everyone works together to go to reach their goal – and the support from everyone, proves that everything is special."
For these alumni, being a Cougar is not only a glimpse of their past and present but also of their future.
"As cliché as it sounds, Cinco Ranch is a family," Smith said. "I have so much love and pride for this school. This is where I grew up into the person I am. No matter where I go or what I do, I'll always remain a Cougar at heart. I think CRHS is something we all carry with us, no matter where life takes us in the future."
Leave a Comment
About the Contributor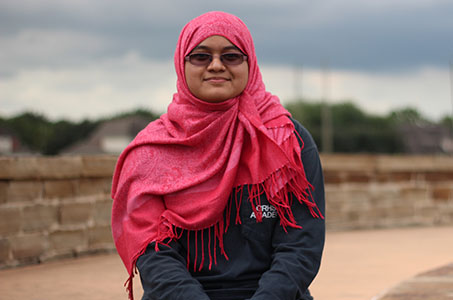 Meherina Khan, Co-Editor-in-Chief
Meherina Khan is a senior and Co-editor-in-Chief of the County Line. When she's not busy saving the world from devastation or attempting to survive in...