CRHS fine arts department presents: 'Spamalot'
Costumes
Junior Stephanie Huisman is costume crew head this production. As crew head, Huisman receives orders from directors and oversees a team of seven people. They research costumes and designs, and then order or make them.
"I'm in charge of making sure that everything happens smoothly and that we have the hundred and forty costumes at the end of production," Huisman said. "I don't think we've ever had a show with so many costumes. Each character is playing four different things so we have four costumes per each of the 36 people."
This production has challenged Huisman to be a leader and an effective communicator.
"I've never really had as much responsibility as I have for this," Huisman said. "There is just so much to do and miscommunication can be a big problem. You have to really communicate and get to know your crew and make sure your directions are clear."
According to Huisman, this show's variety of singing, dancing, and special effects will be the best aspect of the musical.
"I really like how we work separately in different crews and in the end we can come together and make it a whole thing," Huisman said. "I think its one of the coolest things about it. In the last few days leading up to opening night, we put it all together and it works."
Cast
In CRTC since freshman year and going into college as a musical theatre major, senior Rebecca Russell takes part in the cast as Lady of the Lake. The cast is currently reading through the script, studying and analyzing the show, and researching the time period and different characters they play.
"We are more in the beginning stages but we are getting our foundations set so we don't get ahead of ourselves," Russell said. "It's a process, it's like steps and if you miss one step it's going to make the whole process more difficult."
As the Lady of the Lake, Russell looks forward to creating and adding a different style to the character.
"[My favorite part of productions is] creating a character because you see other people doing the same character as you but in a different performance at a different school or a production somewhere else and they have their own version of that character, but you get to create someone completely different if you have a different perspective."
Overall, Russell is excited to be a part of this musical, the last one of her high school career.
"Lady of the lake is ridiculous, I love it, it's over the top. It's something that I can have a lot of fun with, it's not that it's not serious. I mean I'm very serious about it. Its serious fun. I love it."
Animation
Animation is a new component to this musical's production. Senior Jack Rinderknecht has been selected to do the animations due to his past experience as an animator. Rinderknecht has been animating since the age of 12 and uses Adobe Flash for most animations. This production has the challenge of finding key places in the script to add and create an animation.
"It gives a sense of uniqueness to the show," Rinderknecht said. "Not many musicals, not to mention high school productions, have this type of additions in a show."
The process has taught Rinderknecht the importance of everyone's talent.
"I've learned how to use my talent to achieve a certain look, by using short animations to add to something bigger," Rinderknecht said.
During the show, an animation will be projected onto the two screens in the PAC.
"I'm looking forward to seeing it all come together. With the cast performing alongside the animations and the technicians working the sound and lights, this production will be one of the best Cinco has ever had."
Sound
Senior Ana Villagran, who runs the lights and sound for Bravo productions, is head of the Sound Crew.
"I'm in charge of all the microphones and sound effects that will be going on during the show," Villagran said. "I am also in charge of mic-ing the orchestra and finding the balance between microphones for the casts' voices and the orchestra."
Musicals tend to be bigger productions overall than CRTC's usual shows. This changes Sound Crew's responsibilities, as they focus less on sound design and more on shifting the musical spotlight from character to character.
"This show is really big tech wise," Villagran said. "I think that our tech work is really going to be seen by the audience. We sometimes don't get noticed by people, but our work is definitely going to be there and it's going to be big."
The Sound and Lighting Crews work together in the booth at the back of the Performing Arts Center during shows.
"There are so many things that you can do with sound," Villagran said. "You can create emotions, or you can convey different feelings that the characters themselves are showing or just the overall mood of the show or a theme that you are trying to represent.  I believe that for musicals sound editing is really important, as the songs are major parts of the plot and they give away many of the different themes of the show."
Set
Co-head of the set crew is junior Natasha Tamula, who shares her leadership with sophomore Nick Shanley. Tamula has been involved with CRTC since her freshman year, and has served on the costume or set crews for all main-stage productions since then.
"For set crew in general you have to be really precise," Tamula said. "Actors are dancing on your set, they're walking on your set. You can't make something that's really unstable."
Tamula's career in set crew began in 7th grade, when she helped build sets for "Sherlock Holmes" at Beck Junior High. Currently, she is enrolled in Advanced Tech Theatre, and helped design the set for Spamalot in addition to leading the crew.
"The director has their vision of what they want and they tell the design team, 'Okay, I want this and this. Now figure a way to make it work,'" Tamula said. "We make a scene breakdown with all the things that need to be included in the show, and basically it all gets morphed into this one, big design. It's a collaborative process."
View Comments(1)
About the Contributor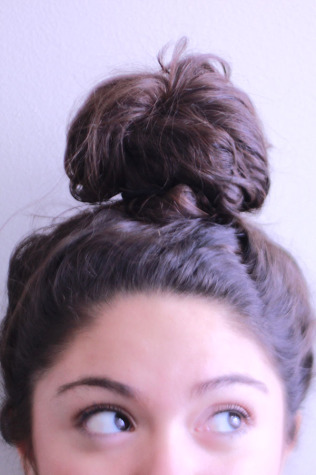 Sofia Guevara, Co-Editor-in-Chief
She lives on the edge, longboarding down steep hills, laughing at her own jokes, and writing about the most complex creature on Earth: the human. Managing...