Moms behind mums
Inner workings of Homecoming tradition
It all started out as a simple gesture of affection when a boy gave his significant other a chrysanthemum flower the week before the annual homecoming dance. Since then, the tradition of mums still remains in the southern states,but this time it's bigger and better. The size, the objects and the amount of noise they make are the ingredients that tie the homecoming season together.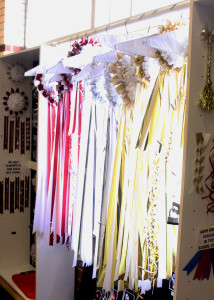 Silk replicas of the original chrysanthemum flower were introduced. Unlike the real flowers, these had the capacity to hold more things. Mums soon became personalized with ribbons, streamers, toys and of course, bells. The colors of the "flower" is now associated with the school colors and accessories that represent the girl's extracurricular activities.
Mums are a big part of the homecoming tradition at Cinco and the parent volunteers don't waste any time getting them ready. The process begins as early as February and continuing all the way through the homecoming season. Time is a major obstacle in the process of mum making.
"It can take up to 45 minutes for a basic garter and up to 2 to 3 hours for a basic mum," Priscilla Webking, head coordinator for the Mum Comittee, said. Of course the time consumption increases when a student asks for a customized mum.
The committee incorporates basic bells all the way to household objects into the mums. In the past few years there has been a high demand to add odd things to the mums and garters such as lights, dolls, and even bubble bottles.
"There was one time we had somebody come in that just had all of this stuff that they wanted hung along the bottom. Little candy houses and statues," Webking said.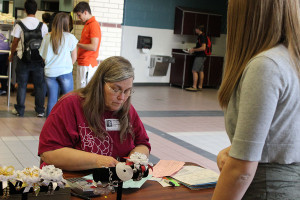 Most students start buying their mums freshman year and keep on buying them throughout their high school career.
"The mum that I bought freshman year had items that represented the sport I was in, and smaller things I thought were cute," junior Kelsey Tara, and member of the junior varsity tennis team said, "I mostly wanted it for the experience of just owning one, but I ended up using it again for sophomore year, so it has double the memories."
The mum tradition has definitely changed in the past 80 years, but one thing still remains the same, mums represent a big southern tradition, and even though every place may have homecoming, this is what makes ours different.
Leave a Comment