Senior keeps the faith, moves forward after losing mom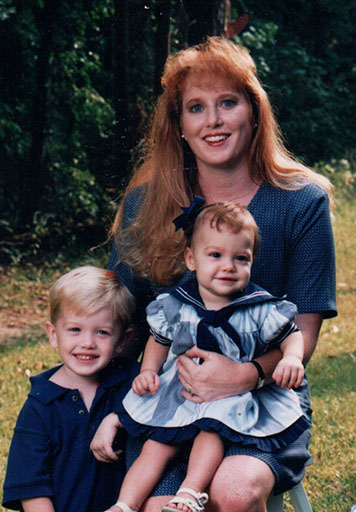 When the phone call came, it was the call senior Jamie Lynne Tatum had been preparing for her whole life. One look on her phone screen told her everything – she knew it had happened. Her mother, Andrea Lynne Tatum, had passed away.
"Well kind of what happened was that she was diagnosed with brain cancer when I was a year old, and she had surgery to remove this tumor that was eating her brain," Jamie Lynne said. "And after the surgery, they gave her three months to live – she outlived this by 17 years. She was a walking miracle."
After surgery, Andrea Lynne had seizures.  For Jamie Lynne, she has never known her mom not being ill.  Her mother was sent to nursing homes due to her deteriorating health condition.  On Feb. 6, Andrea Lynne passed away.
"The day before she passed away, the place taking care of her told us that 'hey, she's transitioned into the stages of dying.'  And that's when we knew it was going to happen," Jamie Lynne said. "I've prayed for peace for a long time, just not only for myself but for my whole family, to make peace with it. We knew she was in a better place, but it stunk that she just wasn't here anymore."
Despite not ever knowing when the phone call was going to come, she stayed focus with school, work and continuing to live her life.
"When everything took a turn for the worse, it became a thing – when am I gonna get the phone call that she passed away?" Jamie Lynne said. "What class am I going to be in? What am I going to do?  And my teachers were really understanding of everything. And it sort of became a distraction and you just had to work through it.  It just made me stronger."
During her mother's illness, Jamie Lynne looked to God for comfort. She currently attends Second Baptist Church.
According to Jamie Lynne, she believes everything happens for a reason and that her mother's illness was a trial from God, that made her stronger as a person.
"And that's how I look at it, I try to stay positive about it all the time. Like, this is for a good reason and that God has a plan," Jamie Lynne said. "This is going to strengthen me at the end, this gonna make me a better person and make my family stronger.  The way I view it as just before, she couldn't be present in my life, or see me dance or grow up. Or like, I couldn't really remember it if she was there and the way I see it, she just gets to watch me from a better seat now."
Jamie Lynne is also a member of Texas Association of Future Educators (TAFE) and the Cougar Stars. For Jamie Lynne, people's kindness towards her was overwhelming.
"I had a girl, last week, randomly come up to me after church and was all like 'Hey, I know we don't talk a lot but how have you been doing? I've been praying for you,' Jamie Lynne said. "Just for someone so random, it just means a lot for someone to say that to me and to know that they've been thinking of me, it was really sweet. Because I didn't realize, that people cared so much. During this time I just realized that people do care, and always are there if you need them."
Subtle acts of kindness like these helped Jamie Lynne to overcome some of her hardest days.
"Everything happens for a reason," Jamie Lynne said. "And what happens is either going to break you or strengthen you. And honestly, it is your own personal choice as to how you will let it affect you. You can either let it affect you in a negative way or in a positive way.  And if you choose to always be down about it and negative about it you're not going to be happy. You just have to accept that it happened and just be all like 'this happened to me, I'm going to learn from this and I'm going to be stronger from this.'
Retraction: On the fifth print edition of the County Line, the caption incorrectly identifies Kyle Tatum as Stephen Tatum.