Confessions of a 'Teenage Homecoming Queen'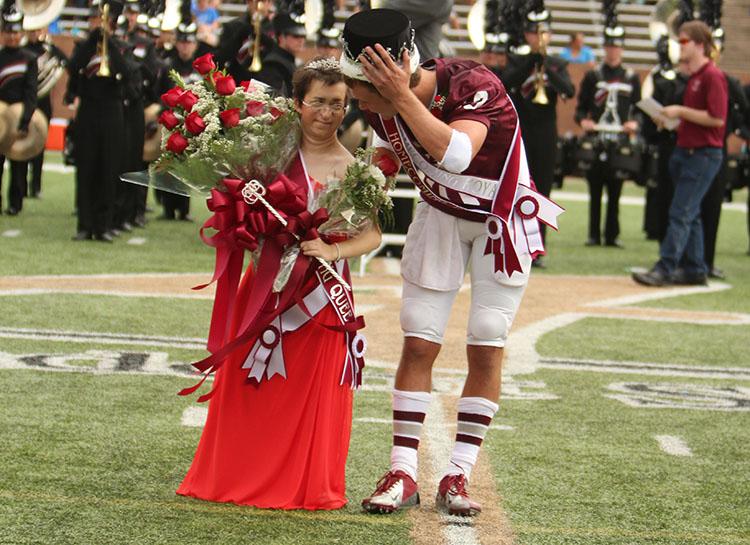 She stands less than five feet tall and wears pink glasses. She has short brown hair and loves to smile – her quiet laughter is contagious. The pitter-patter of her innocent footsteps fill the hall, she moves along like the rest of us.
To have the opportunity to be crowned queen among a sea of jewels was something that exceeded her wildest dreams.
It would be enchanting, like a fairytale come true.
Senior Olivia Ritter was announced as a member of the 2012 homecoming court.
"I was in my sixth period class when I heard [that Olivia had been nominated]," senior Lori Schaefer said. "She's been talking about being nominated ever since last year, about eight months now, and I was rooting for her and nominated her. When I heard her name over the loudspeaker, I literally screamed."
Schaefer, who was also nominated for homecoming court, has known Ritter since her freshman year. Ritter switched into Schaefer's home economics class and happened to sit at the same table as her. Schaefer will occasionally get surprise phone calls from Ritter and always makes an effort to sit with her at lunch.
Weeks prior to homecoming court nominations, Olivia was found strolling around the cafeteria carrying a basket of candy in her hand and a smile on her face, with hopes that the student body would cast their vote in her favor.
"I screamed," Ritter said, when she found out she was nominated for homecoming queen.
This was something that Ritter has dreamed about for longer than she can remember.
Ritter has a congenital disorder known as langer giedion syndrome.   This    disorder is characterized by a mild to moderate mental and growth deficiency.
"I cried when I heard that the compassionate students at Cinco Ranch had selected 'Livie' to their Court," Olivia's mother Emily Ritter said. "What a wonderful thing to do. Our whole family was overwhelmed with gratitude."
Nicknamed "O", Ritter's soft spoken demeanor and loving spirit have managed to rub off on the members of her family, sharing with them some of the finest qualities in life: patience, suffering, sacrifice, the ability to enjoy the little things in life, and the power of prayer.
Schaefer, who considers Ritter to be one of her closest friends, could not be happier to be on homecoming court with her as they both are able to congratulate each other and enjoy the experience.
"[Being friends with Olivia has] definitely humbled me a lot," Schaefer said. "She is definitely just a huge joy and has definitely changed my perspective on things. She's just a light and such a joy to be around. Anytime someone is with her or around her you can't but to have your face light up. No matter what she says, even if you crack jokes with her, like it can be something as simple as a knock, knock joke, she will laugh non-stop forever."
For homecoming, Ritter wore a purple dress and attended with best friend Connor Martin, – just as she has for the past 3 years.
"He called me," Ritter said. "[Connor asked], You ready, homecoming?"
Olivia's parents cannot thank her classmates enough for supporting their daughter and providing her with an opportunity as rewarding as this.
"Olivia is feeling so great about being included in all the fun of homecoming," Emily said. "This is the biggest vote of love and acceptance in her life from the students that she adores. If only the students could know how sincerely she admires and loves them."
Olivia, her classmates "biggest fan", has always attended every athletic, musical and theatrical event. She can be found at almost every football game, waving her homemade sign in support of her favorite football team: the cougars.
"The coolest thing is that Olivia prays for all these people," Emily said.  "I bet she will never forget anyone and continues to pray until her last breath."
Olivia is also the manager for the girls' basketball team and participates in Special Olympics events for swimming as she very much enjoys cheering on her friends.
She is active member in the adult special needs Sunday School Class at Kingsland Baptist Church and loves the Association of Retarded Citizens of Katy (ARC).
"For the past two summers I have gone to ARC summer camp," Olivia said. "I played the bells, was in a play, made crafts and went to Starbucks and ordered a latte by myself. We do so many fun things there."
Olivia has a white Maltese therapy dog named Giovanni.
"I love to take Giovanni on vacations and fly with him on airplanes," Olivia said. "We always get the bulkhead [of the plane] and everyone who comes in the plane pets him."
According to Olivia, when she hangs out with her friends she goes out to eat, tells jokes, laughs, talks, play games and sometimes shops, though she insists she is not a big shopper.
"Her innocence [is special]," Schaefer said.  "The way she is just so childlike, and can laugh at the little things and just enjoy, things like knock knock jokes and goofy things and just laugh at anything that normal people would think is dumb. She is a fighter. She loves life; she's just such a special girl."
On Saturday October 20th, Olivia's "fairytale"came true. Olivia Ritter was crowned homecoming queen.
"Miracles happen to those who love the lord…that is a song…," Olivia said. "It is true and I do."
About the Writer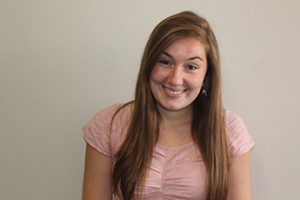 Gabrielle Deckelman, Features Editor
Senior Gabrielle Deckelman, is also known as the future Editor of Vogue. When she's not jetting off to Paris to attend an upcoming fashion show or writing...