Review: Green Day Releases Unexceptional Album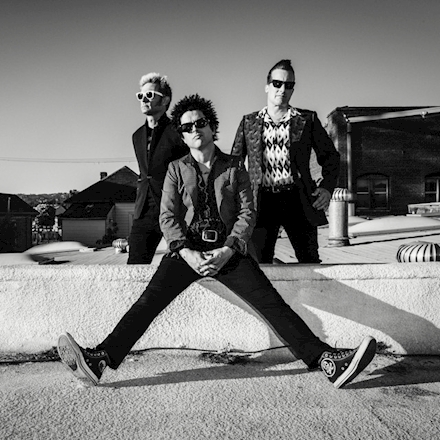 There are many synonyms for the word mediocre, none of which typically describe Green Day and their albums that have previously set the standard for the rock and alternative scene. With their new album "Father of All…" recently added to their ever-expanding discography, this one sticks out to many as sub-par as it sits among its predecessor albums.
"Father of All…" seems to be Green Day's attempt at keeping up with the times and the pace of the modern music industry. With them being a relatively older group, they have established a sense of what works and what does not, and have remained in that safe space for many years, going on decades. This recent dip into different sounds is nothing less than frustrating.
When presented with the basics of the album, everything seems to line up nicely. The album cover, song titles and lyrics all seem to promise a hardcore, fast paced and promising record. They all seem to emanate a sense of chaos and cluster, reflecting on the art styles of graffiti and suburbia-esque imagery. This is seen all throughout their discography, with albums such as "American Idiot" and "Revolution Radio" stunning the alternative scene with all the perfect elements of harcore rock. When it comes to "Father of All…", this is not the case.
There are only a couple of songs that I would say fit the Green Day mold, such as "Take The Money and Crawl", "Sugar Youth", and "I Was a Teenage Teenager", but even these are not standout songs by any means. These three songs could be recognized quickly, while the others may have listeners questioning if the songs are even by Green Day at all. Billie Joe Armstrong has one of the most arguably iconic and impressionable voices in the alternative scene. On this album, something seems off with the vocals. They feel forced in many songs, and for the majority of them, it sounds as though Billie is singing at least 20 feet away from the microphone. Though this is intentional, obviously to add to the old 90s rock vibe they were trying to put forward, frankly, it sounds boring and adds no energy to the songs.
Because of the vocals, the instrumentals are what's left to bring energy. To be completely honest, they are what gives the album any sort of merit. To give credit where it is due, the guitar and drums are exquisite. However, bass guitar could be highlighted more. All of the instrumentals are diverse and there are many stand out songs. The title track, "Father of All…", is one of the best examples of this. It stands out among all of the other songs and gives every member a moment to shine.
This album is by no means perfect, and with the upcoming Hella Mega Tour with Weezer and Fall Out Boy approaching, one can only hope they do not focus on this album for their setlist. For a follow up to "Revolution Radio", it is very lackluster. If this album did not have Green Day plastered on the cover in bold, red letters, there is no doubt that it would be overshadowed and eventually forgotten.
4.5/10