Harriet
New Film Showcases Life of Harriet Tubman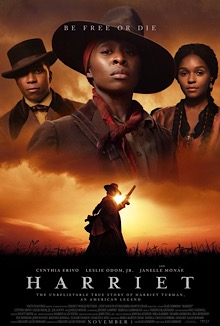 With a strong soul, wise mind, and fearless strive, Harriet Tubman will forever be known as the woman who changed history with her rescue of hundreds of slaves and the leadership of her people to freedom.
In this film, British actress Cynthia Erivo gives an outstanding performance as Harriet. The film carries the well known story of Harriet Tubman who escaped her plantation to find freedom from her slave owners. Throughout her escape, she comes across family and friends that help show her the way down her path as God guides her and her feet lead her. Harriet arrives in Philadelphia where she meets William Still (Leslie Odom Jr.) who influences Harriet to start a new life as a free woman. Harriet then encounters Marie Buchanon (Janelle Monae) who offers instant hospitality in kindness to Harriet. Though the freedom was everything Harriet wanted, it was not enough if it was not shared with the rest of her loved ones.
With her fierce strength and brave spirit, Harriet returns home to gather more of her people from her plantation and leads them to a free life. Gideon Brodess (Joe Awlyn), Harriet's owner's son, makes it his life mission to find Harriet and get her back to the plantation. Joe Awlyn portrays Gideon exceptionally well as the antagonist against Harriet.
The film is thrilling, inspirational and motivating for anyone who has faith or believes in something. The story of Harriet's journey has inspired many and it will inspire you.