Taking on the city
Guide to a broke teen's weekend
A 35 to 40 minute drive might be all it takes to enjoy a low budget weekend in the art-filled city of Houston.
Lawndale Art Center
The Lawndale Art Center is a perfect place to admire contemporary art exclusively by regional artists, featuring four galleries, three artist studios and an outdoor sculpture garden, all with free admission. March 13th: An opening reception for the new exhibit with works by four artists including talks with the artists about the exhibit from 6:00 p.m. to 8:30 p.m.
In the exhibition With Wild Abandon, Anthony Sonnenberg's works attack the topic of consumption and consumerism, with the influence of the rococo and Greek myth.
A piece by Jason Flowers, 8 Ohms, eight cassette decks which are all wired with an electronic eye sing in unison until a viewer approaches an individual deck. Seeing the spectator, the deck falls out of tune with the others, only to sync again when it is left alone.
Art Car Museum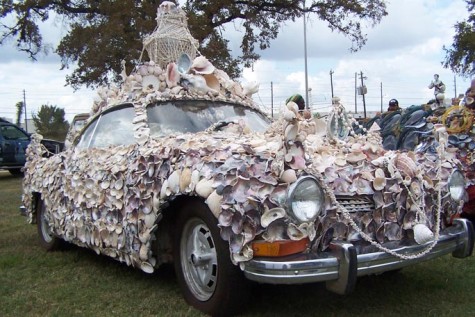 Known as the "Garage Mahal", the Art Car Museum features contemporary art with an emphasis on cars. The cars displayed there have undergone unique personalization by the artists in order to make a statement. These changes include  radical paint jobs to a completely restructuring the model of the car.
Houston artist, John Atlas, whose artwork had been shared around the world is currently being displayed at the exhibit, which includes over eighty paintings on canvas and paper as well as sculptures.
Outdoor Miller Theatre
The Outdoor Miller Theatre hosts free live performances ranging from Shakespearean plays to music concerts from March until Oct. Although attendants are welcome to bring their own drinks and food, the theatre is surrounded by concession stands and cafes that are open until the showtime.
Seats are given out on a first come- first serve basis, although some shows require ticketing.
Houston Arboretum and Nature Center
The Houston Arboretum and Nature Center is a native plant and animal sanctuary that offers 5 miles of various hiking trails to the public free of charge. The center offers different activities each month, for more information check houstonarboretum.org.
The Arboretum also provides a Discovery Room where one can further learn about the environment while engaging in interactive activities.
Although dogs are welcomed in the trails, food is not.