Election Exasperation
How To Stay Calm As The Ballots Come In
We monitor our Twitter feeds with an unflinching gaze, desperate for another set of ballots to be reported. Our search histories are checkered with election coverage; the New York Times' Election Needles here, a CNN electoral map there, all topped off with a smattering of NPR articles and the 538 Live Blog. The names of pivotal counties flit around our heads: Allegheny County in Pennsylvania, Fulton County in Georgia, Maricopa County in Arizona. If you're following this current nail-biter of an election like the County Line staff, chances are that in some way, you can relate. The presidential election itself is still up in the air as votes continue to be counted in key states like Arizona, Nevada, Pennsylvania, and Georgia; Biden has the advantage in the electoral college currently, but President Trump has repeatedly railed against this, falsely claiming victory and doubling down on allegations of voter fraud. Furthermore, the race for control of the Senate is still up in the air; with Republican Thom Tillis likely to beat Democrat Cal Cunningham in North Carolina and Republican Dan Sullivan likely to beat Democrat Al Gross in Alaska, the final two seats will come down to Georgia, where it looks like both Senate races will be decided with a runoff election on January 5th. Republicans need to win one of these Georgia races to have a majority in the Senate; Democrats would need to win both races to evenly split the Senate 50/50, and then the White House for the vice president's tiebreaker vote.
It's already easy to feel burnt out and overwhelmed by such a vast quantity of election content, and with such close margins, countless lawsuits filed, a sizable uptick in COVID-19 cases, and a race for the Senate that will not be fully concluded until January, this will only get worse. To try to combat this desire to endlessly doomscroll through news, we here at the County Line have put together some suggestions on how to stay sane during this insane process.
Step Back, and Set a Schedule if Needed
Being politically involved is a key civic responsibility for Americans, and Gen Z has definitely been delivering here. This year in particular, many students have become more aware and up-to-date with the political process, even if they are still too young to vote. Not staying informed is irresponsible; politics affects all of us, whether we like it or not. That being said, refreshing your electoral map every 20 minutes won't make Nevada count their ballots any faster. Sometimes it's best to try and step back, and set a schedule on when to check in on the counts. Many pivotal states that are still counting right now will set times they plan to release the results from another batch of votes. Turning your phone off with the intention of checking back in after these deadlines can help reduce how much time is wasted waiting for results that are still hours away.
Turn to Humor
Sometimes the best escape is through laughter. Luckily for us, despite the chaos of the moment, there are some great sources of comedy. Maybe you'll be like us, and find this Jeb Bush meme way funnier than it should be, partially because in all the chaos of the past four years, you had completely forgotten the seemingly tame nature of 2016 and the stiff awkwardness of Jeb Bush, imploring a crowd of his supporters with his subdued deep voice to give him recognition, to show any signs of life.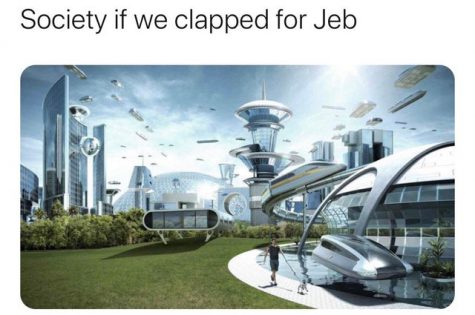 Not quite? Try some of our favorite TV shows on Netflix right now, like "Arrested Development," "Community," "The Good Place," and "Schitt's Creek." For some political humor, consider picking up "VEEP" on HBO Max; it is both hilarious and lately, concerningly realistic, with its depiction of politicians in Washington as all bumbling idiots who also create some of the meanest, most creative insults in all of history. Its final season even takes inspiration from the crazy election four years ago, so it's especially pertinent.
Pick Up Your Quarantine Hobby Again
Many of us turned to new hobbies and activities to try to stay sane during this ongoing pandemic, especially in its early days. While school is admittedly taking up more of our time now than it did during March, any bit of fun that can be squeezed away from scrolling through news for hours upon end is a win. Try building in some time this weekend to mess around in the kitchen and see if that baking phase is suddenly reignited within you, or dig out the old Wii and see if you can still trounce your siblings at Mario Kart. If none of your past diversions sound fun, look into some new ideas; maybe try your hand at knitting, and make a sweater for yourself in preparation for the two weeks of chilly weather we'll get before it goes back to being hot and humid 24/7. It can be as outlandish as you want; anything that can at least sometimes get your mind off the news is a win here.
Over the course of this elongated election and beyond, we must stay involved. This election so far has had record-breaking levels of voter turnout, and we should strive to all do our part to keep this turnout high in subsequent years and prevent 2020 from being a fluke. It is important that we each stay healthy and balance this involvement and awareness with our personal lives to prevent burnout and cement our political awareness as a long term fact.