Elizabeth Hale, Co- Web Editor

February 15, 2013
On Tuesday, Feb 12, the Lady Cougars basketball team defeated Houston Madison 61-42, advancing them to the next round of playoffs. The Cougars compete again tonight at Katy Taylor against Cypress Creek (25-10).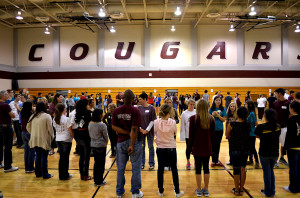 Michelle Chong, Co-Editor in Chief

December 13, 2012
A feeling of unity was palpable in the air as students and faculty alike gathered in the ninth grade gym. The audience represented various clubs, sports and groups as well as those who do not participate in any after school activity. The event consisted of games and activities that encouraged students to ...
Madeline Brisson, Sports Editor

September 16, 2012
With four of Cinco's starters on the bench due to injuries, the cougars suffered a 62-21 loss to the state-ranked North Shore Mustangs on Friday, Sept. 14. The Mustangs broke away early with two touchdowns and an extra point at the beginning of the first quarter. At the end of the first...