Going the extra mile
Sophomore Irene Arinze recounts her experience competing at the Junior Olympics.
It's an early July morning. While most of her family is fast asleep until the late afternoon, she pushes herself awake, throws on her shoes, leggings and tank top and is out the door for her regular morning run. She repeats the routine later in the day, except this time her coach is on the side of the track, prepping her for the upcoming Junior Olympics.
Having competed at the national level, sophomore Irene Arinze knows track and field like the back of her hand.
"This kind of thing definitely involves a lot of self-motivation and discipline," Arinze said. "Going out and practicing when I could've easily been sleeping in instead was difficult and strenuous, but I always found a way to get it done."
Every athlete knows the importance of practicing for an upcoming match or meet. But when it involves thousands of students from all over the country, practicing and preparing for the big day carries a different weight.
"We trained very hard in every event and race and did multiple sprinting drills and relay techniques to increase out speed and efficiency," Arinze said. "There was no stopping, slacking or relaxing whatsoever. Our coach made sure we were always on our toes, from the very beginning to end of practice."
Preparing for the olympics is no typical feat. It takes physical as well as mental and dietary preparation. In order to properly orient themselves for events, athletes take on major diet changes in addition to the often intense and demanding training and exercise.
"Just like I do regularly during track season in the spring, I made sure to eat right by cutting out a lot of junk foods," Arinze said. "In place of all the junk food, I added more proteins and lean vegetables to my diet so I could keep eating the right portions."
On the day of the event, a scattered mind and racing thoughts are last things athletes want to deal with before heading on the track and giving it their all. To prevent this, Arinze always make sure to stay focused on the particular task at hand.
"I had the usual pre-race anxiety, but I mentally mapped out the races so I could gain some focus," Arinze said. "After each race, I mentally talked through how I could improve my performance to give myself some encouragement. I think doing this is one of the most important parts of my preparation, because athletes have to be goal-oriented individuals. Otherwise, you be more scrambled and unfocused before the next event."
Track, just like any other sport, can help people develop their physical strength and endurance. But another thing that track can help with is developing teamwork, cooperation and maturation.
"Whether it's just a regular season at school, in track and field class, or training over the summer, track has taught me that you can be one of the best athletes around, but improvement should always be considered," Arinze said. "There always room for every athlete to improve, and if you give it your all, anyone can go for the gold."

Hang on for a minute...we're trying to find some more stories you might like.
About the Contributor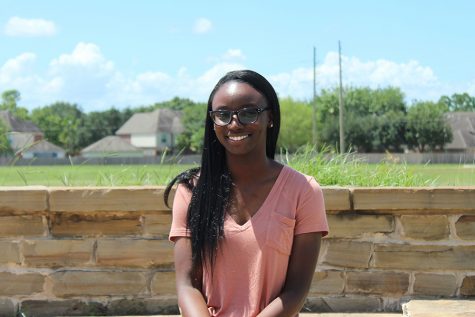 Angelica Arinze, Features Editor
Angelica Arinze is a senior and Features Editor this year for the County Line. Between indulging in seemingly endless cups of frozen yogurt or complaining...