Senior Volleyball Player Signs With Brown University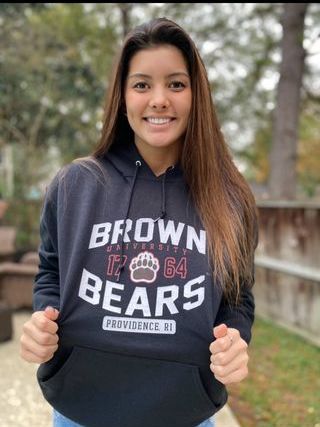 Senior Kayla Griebl, who is the starting outside hitter for the varsity volleyball team, was admitted to Brown University and will play on the Brown volleyball team this fall.
"I am excited to attend such a prestigious university as Brown and am fortunate enough to be able to play on the volleyball team," Griebl said.
Brown appealed to Griebl because of its challenging academics and its open curriculum that allows students to take classes outside of their major. She is leaning towards majoring in Biology.
"In talking with current student athletes, coaching staff and even a chemistry professor, I got a great sense of the Brown culture and felt it is a great fit for me," Griebl said. "I am also impressed that the volleyball coach emphasized that even though I will be an athlete, I am a student first and my studies are the highest priority."
Brown is a Division 1 school in the Ivy League Conference.
"Brown currently is in 4th place out of the 8 Ivy League schools for the 2019 Season (2020 cancelled due to Covid). I am excited to join the team and move Brown up that ladder," Griebl said.
During her time at Cinco, Griebl was a four year starter for the Varsity team. She started on the freshman A team and her team went undefeated, eventually, winning district. Then, she was moved up to varsity, and the varsity team made the playoffs every year, taking first place in 2020.
"The older players really welcomed me even though I was a freshman and was a bit nervous," Griebl said. "I will always cherish the memories of us all singing on bus rides, meals at Jason's Deli and playing with my awesome teammates."
Playing for Cinco, she was named the 2020 Cinco Ranch MVP, nominated for 2020 Vype Houston Pre-Season Outside Hitter of the Year and was selected for the 2020 GHVCA Pre-season Team- 6A. She received many other awards playing for Houston Juniors, a volleyball club.
"I knew I needed to join a competitive club to improve my skills and play at a higher level," Griebl said. "Playing for HJV has opened up many doors for me. I really enjoy all the coaches and had so much fun with my teammates during practices and on the road during tournaments!"
Playing for the club, she made the 2020 AVCA Under Armour All American Watch List and AVCA 2019 Phenom List, earned bids for Juniors Nationals in 2018 and 2019) and Beach Volleyball Nationals in 2017 and 2018. Additionally, she was invited to the USA Volleyball High Performance Programs in 2016, 2017 and 2018 after attending a tryout.
"This program is a pipeline for the USA Women's Volleyball Program ," Griebl said "The training was intense and our coaches were from top programs and universities, as well as some that coached the US Women's Team. I made many new friends from all over the US, and it is really cool meeting up with them at tournaments!"
Griebl hopes to meet her friends at tournaments in college as well. After college Griebl does not plan on playing volleyball professionally, but she has not completely ruled it out.
"I know I will always continue to play for fun with my friends," Griebl said.